Tried out Inchin's Bamboo Garden
I was sad to see Canyon's leave us here in Bothell.. many memories were made in that place and I was nervous to hear another chain was moving in. I had never heard of Inchin's Bamboo Garden before, but someone told me it was pretty good and I wanted to see what they had done with the place.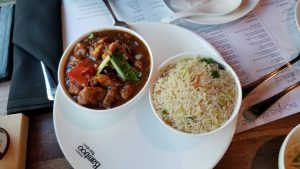 This week I was able to try it out for myself, and overall I liked what I experienced. for those who don't to read the rest of this review, yes, it was a good experience, and I would suggest heading down there.
I asked a Bothell photographer, Rob Resing from Chapters Photography to come with me. He didn't bring his camera but he and I test out the new places in Bothell all the time. We like playing good cop bad cop with the waiters. Rob liked his food, he had the schezwan chicken (image to the right) and thought it was great.
I got the lunch portion of Mongolian Beef ($11). It came with soup, they had two different soups to choose from. It also came with a veggie spring roll which was delish. The Mongolian Beef came out of the kitchen in a bout 4 minutes which was fast.. Rob and I were the only ones there as we got there right when they opened. By the time we left, they had 20 or 30 people in there..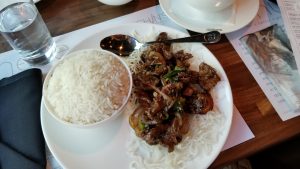 I had asked for it spicy. They have a 3 star spicy ranking and I asked for 3 stars. It has some heat, but I would have liked to have a bit more. I like spicy stuff though.. The Mongolian beef came on a bed of those styrofoam rice noodles (which I love) and a large bowl of rice. You can tell they were lunch portions, but after the soup, the veggie roll and my Mongolian beef, I left satisfied. I could have ate a whole other plate though. The beef was tender, there was some great spice in the sauce as well. Onions were caramelized. Really good.
They have many lamb options which is great if you are a lamb lover.. lamb meat lover. They mentioned there were a pan asian restaurant with Indian influences. Cool with me, it was good.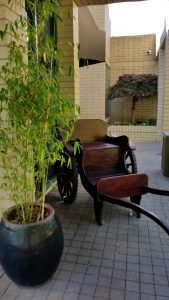 They must have spent a fortune remodeling the place, it looked great. I bet it really looks great at night time. I'm planning on heading back for dinner in the next few weeks. When you walk in, I felt calm. Remember how Canyon's had those paintings, or pictures of wolves.. looking back, that kind of made me a bit anxious compared to the way they have it designed and laid it out now. When you walk in, you feel calm. Lots of cool Asian effects all over the place.. bamboo here and there..like I said, calming.
The service was ok. Inchin's is just opening and every restaurant that I have ever worked with (I do marketing for some restaurants) has this same issue. No matter how experienced, or how much training goes into the staff before they open, there are always snafus (I have always wanted to use that word in a post. Done.). But our waiter was nice and filled our waters often.
I think I noticed some of the folks from the old Bothell Canyon's there, which if true is a move by Inchin's. Keeping the locals there (at least the good ones) will help with continuity and customer retention.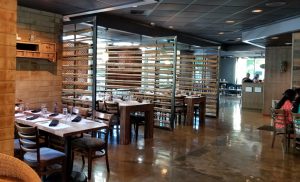 They have after meal wipes that are at the tables. One thing that I figured Inchin's would have at the table was chop sticks… nope. Forks.. perfect for shoveling it in. 🙂 I would have assumed with such an Asian themed place, chop sticks would be on the tables. No biggie.
They have their own types of sauces at the table.. we tried some of them.. pretty good.
I did't have time to check out the bar, but I will. It was set up much like Canyon's but I did not see a lot of TV's. Good for a date night? Yeah.
The bottom line: This place is a great addition to Bothell. The food is awesome. Portions are ok. Great menu. Awesome decor. If I had to describe how the experience felt, it was kind of… P.F. Changy with a earthly flair.
My ask: I hope they get involved in the Bothell community. I like giving my business to business who are giving back to Bothell.
Below are a couple of terrible shots of their menu.