Keller Williams Bothell Sock Drive 2017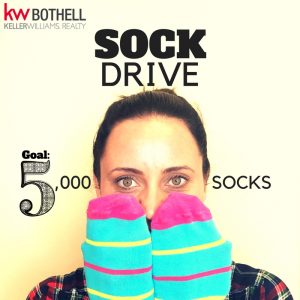 This is the 6th year that Keller Williams Bothell has been doing the sock drive.  Organized by Christi Samaniego, Listing Coordinator at Pickett Street Properties
Keller Williams Bothell, WA and Pickett Street Properties are joining forces to help Christi gather 5,000 pairs of socks for the homeless of Seattle this 2017 winter season! JOIN US!
There was a time in Christi's life when she experienced homelessness. She always promised herself that when she got to the point in life where she could give back, she would. In 2012, the sock drive was born and she collected 280 pairs of socks.
The mission is to start collecting socks around mid September through December 22nd. She prepares packages of socks in gallon size zip lock bags along with hand warmers and hits the streets on Christmas morning, to deliver to the homeless in Seattle neighborhoods. With the power of the Keller Williams Bothell office our BIG goal this year is to collect 5,000 pairs of socks! The most socks Christi has EVER collected is 841- our plan is to blow that number out of the water this year.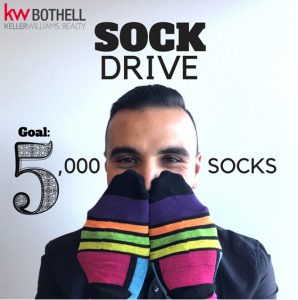 Amazon links:
Socks: https://www.amazon.com/Fruit-Loom-Value-Socks-White/dp/B004DBPBTW/ref=pd_sim_193_2?_encoding=UTF8&psc=1&refRID=3P8JV7B0GE64WE2S0173
Socks: https://www.amazon.com/Athletic-Cotton-Casual-Outdoor-Colorful-DS/dp/B07547R6KR/ref=sr_1_49?s=apparel&ie=UTF8&qid=1507074787&sr=1-49&nodeID=7141123011&psd=1&keywords=warm+socks
Bags: https://www.amazon.com/Ziploc-Gallon-Slider-Storage-Count/dp/B01FXMDA2O/ref=sr_1_1_a_it?ie=UTF8&qid=1507072754&sr=8-1&keywords=gallon%2Bsize%2Bziploc%2Bbags&th=1
Hand Warmers: https://www.amazon.com/HotHands-Body-Super-Warmer-count/dp/B0007ZF4Q8/ref=sr_1_4?s=outdoor-recreation&ie=UTF8&qid=1507073057&sr=1-4&keywords=hand+warmers
Thank you for your support in reaching our goal! If you're able to donate some socks please feel free to stop by the office or mail them to:
Keller Williams Bothell
Attn: Christi Samaniego
22614 Bothell Everett Highway
Bothell, WA 98021
2012- 280 Pairs of socks, 140 bags given out
2013- 464 Pairs of socks, 232 Bags given out
2014- 841 Pairs of socks, 420 Bags given out
2015- 314 Pairs of socks, 154 Bags given out
2016- 448 Pairs of socks, 207 Bags given out
Stats- About 3,000 people are unsheltered a night in Seattle. There are about 10,000 people living on the streets or in shelters- Just in King County.
There are about 1200 people without homes in Everett.