I checked out Bothell's Dine India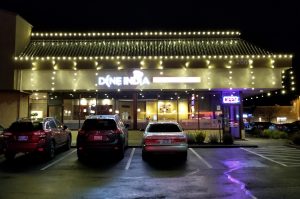 I hit Dine India for dinner tonight. I went solo so I could take my time and really soak up the experience. I had been planning on going to Dine India way back in October ever since Mayuri moved out of that location. Dine India located in the Thrashers Corner Safeway parking lot across from both of the shell stations. They are not a chain of restaurants, they have the one location, but word has it that they will be opening a second location soon.
Parking was no problem there were plenty of open spots. I came on a Friday night and it was busy, lots of families. I looked around and saw lots of Indian folks, which is always a good sign.
I was greeted at the door and was sat at my booth quickly. The menu is HUGE there is SO MUCH to choose from. Soups and Appetizers, South Indian, Curries, breads and tandooris, Biryani, desserts, Indo Chinese and a kid menu! Seriously, it was almost overwhelming the number of different dishes. If you're looking for variety in your choice of Indian food, it's here. Their website has all of the items listed and the website itself if really well done. I just wish they had more images of their food on their website.
First thing I did was ask the manager, Aditya some questions about the menu. He was really knowledgeable and friendly, taking time to describe some of the dishes to me. Being an ignorant American, I couldn't pronounce many of the dishes and Aditya was patient with me. Aditya also explained some interesting things about the origins of the food. I started with some chai tea, I made my food selections and the food started appearing shortly after.
I asked Aditya what were some of the most popular dishes and without hesitation he said the Konaseema Kodi Vepudu and the Kaaram Kodi Koor. He said that also, the classic butter chicken is ordered all the time as well.
Tandoori chicken was the first thing I tasted. It was served on skillet, much like a fajita. The chicken had a delicious buttery taste with some herbs that I couldn't recognize, but enjoyed. It was served on a bed of onions, peppers carrots and some cabbage. All of the veggies were fresh and crunchy, which was good… I'm not a squishy veggie guy. They served it with a mint sauce that really complimented the buttery chicken taste.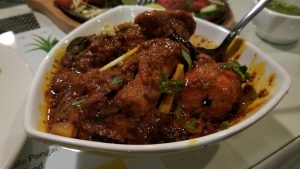 Next came the Kaaram Kodi Koora curry, which was suggested to me by the waiter. Spices were off the chart. Not sure what was in there, but there was so much going on with that curry it made my head spin. It was served with chicken (on the bone) and was fairly spicy, which again I love. It also had some delicious little round onions in it which were fresh and crunchy. Aditya said that those onions are typical in South India cuisine and are found in some other dishes from South India. To be honest, the spices were so awesomely intense the flavor of the chicken almost disappeared, which was fine with me. Very, very flavorful.
Rice, long cut, not sticky like the rice you get at teriyaki. Light and fluffy. The garlic naan was hot and had a just enough garlic for me to taste over the spices of the dishes I ordered.
Of course there were tons of veggie options for those who don't like to eat meat. I am not a huge veggie guy, as many of you know.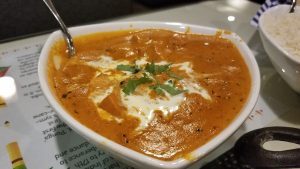 Butter chicken was up next. Swear I tasted caramel, the butter chicken sauce was rich, creamy and sweet with just a hint of spices. I could have eaten it all night! If you are a butter chicken guy, get it here. It's good. a boneless chicken dish which I prefer.
Every day Dine India has a lunch buffet with many popular items. They have a large beer and wine selection. No beer on draft, but a large bottled selection. Red wine is the go to for many of the dishes they serve. I spotted a couple of local bottles, but didn't ask if they were taking selections from our Woodinville winery favorites.
While eating dinner I watched the door and noticed that delivery drivers were coming in and out non-stop. To me this is a sign that we have another restaurant gem here in Bothell. Currently they deliver from Uber Eats and Door Dash. They also cater large events so if you are looking for a caterer for a product launch party, bug bashing events, whatever, they can handle any size of party you have.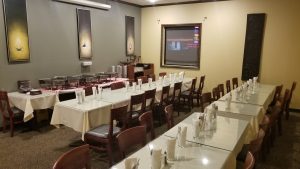 The restaurant 120 seating capacity and is still real cozy. I love the way you can see the cold busy traffic on Bothell Everett Highway but inside the restaurant its calm and warm. They have a large banquet room that can be used for corporate events or parties that seats about 30 people. Aditya said it gets used often for corporate events and celebrations. You don't have to event rent the room its free to use, just give them a call or send them an email, and they will make the arrangements…which is nice as Bothell doesn't have many rooms like this, I guess Grazie's is the only one I can think of.
They have WiFi so you can check your Instagram status whenever you need. They also have events all the time, so I would suggest following their Insta account. Dine India will also be starting a happy hour soon as well as some corporate box lunches.
The service was impeccable, fast and friendly. I listen to other interactions in the restaurant and everyone got the same top notch treatment.
I always force myself to find one thing that I would change or didn't like when I review a Bothell restaurant, and with Dine India, it wasn't easy. I guess if I HAD to pick one thing, it would be the sounds of the kitchen. I sat right in line with the kitchen doors and could hear everyone back there working hard. No biggy, but IF I had to change one thing, that would be it. My guess if I had come with someone, we would be talking and I wouldn't have even noticed.
Overall, I completely enjoyed my experience, the food, the service, everything. Dine India is a solid choice for Indian food in Bothell/Mill Creek.
They have events all the time, but on Jan 14th larger than normal buffet celebrating an Indian holiday. They have events going on all the time, the best way to keep up with them all is to follow them on their social accounts:
https://www.instagram.com/dineindiabothell/
https://www.facebook.com/dineindiabothell/