Carmin Dalziel from www.GoodCarmagirl.com forwarded me this story, I thought it would be nice to help out as Ken has cut my hair in the past and is a great guy: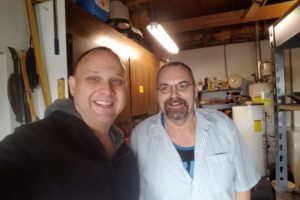 One of the great barbers in Bothell, Ken has fallen on hard times. Below is a The barber who would cut my hair and who has been one of the backbones of C's barbershop is a man named Ken. (There also some awesome ladies who make up this backbone as well! They are all awesome!)
Ken if you know him always has a smile on his face and always has a very kind and loving greeting for everyone who steps through the door's of C's barbershop.
Well Ken has fallen on some hard times. Little to what any of us have known he has been having financial troubles that has led to him working without his license for about a year….
A couple weeks ago Ken was told that he needed to pay a fine of up to 1000 dollars in order to get his barbers license back and on top of that had to leave c's barbershop until he can get his license back.
With this chain of events in his life he has not been able to pay his rent either.
A little known fact about Ken is that for a year he would take a bus to Marysville every Thursday and go volunteer cutting peoples hair at the Salvation army all on his own penny and on his day off.
This selfless act every week for a year alone is an awesome reason to give back to a man who has been giving back to others.