Teddy's Bigger Burgers in Bothell. Howzit?
Today I was working so hard, I totally forgot to grab lunch. The weather is awesome and I thought I would head over to a place I have been waiting to open for some time, Teddy's Bigger Burgers. I have heard many things about Teddy's from friends and family, but seriously I was skeptical. Reason being is that there was so much hype over 5 Guys burgers and really, I wasn't all that impressed. Don't get me wrong, Five Guys bacon dog is the bomb.. but the burgers? Eh.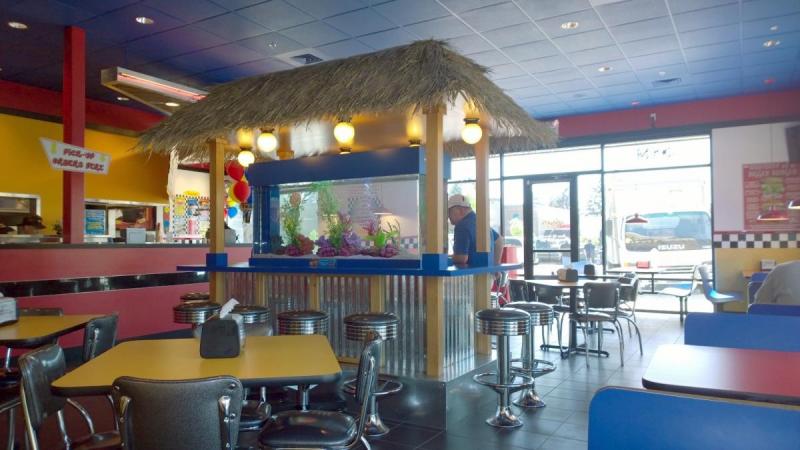 Today I rolled into Teddy's around 2:30 or so. Teddy's Bigger Burgers in Bothell is located in the new Safeway parking lot next to Ivar's. When I got there, just a few folks in there, no one in line. Went right up to the counter and looked at the large overhead menu. Easy to read, easy to figure out. I ordered the #1, no tomato, well done, added cheese and bacon… yes, with a coke and fries. Price wise a little steep for my budget, but I don't splurge often and when I do I don't mind paying for something awesome, which I was hoping was going to be the case.
The dining room had plenty of seating at that time. I really liked the large fish tank I the center, with seating around it. I image my 5 year old would have loved sitting there.
The booths were large (could fit 4 people on each side) and had lots of gut space for the chubbier patrons. They have a HUGE outdoor patio space, which is not being utilized… even on an awesome day like this… my guess is they still have not got the outdoor furniture yet (since they just opened last weekend). Large windows gives the dining room plenty of light. No salt or pepper on the tables though, which I found odd..
Music playing were primarily oldies and Beach Boys (one in the same I guess) tunes. Temperature of the dining room was pretty good. Not to cold, not to warm.
Staff was a mix of old and young folks, all seemed to have something to do and were working.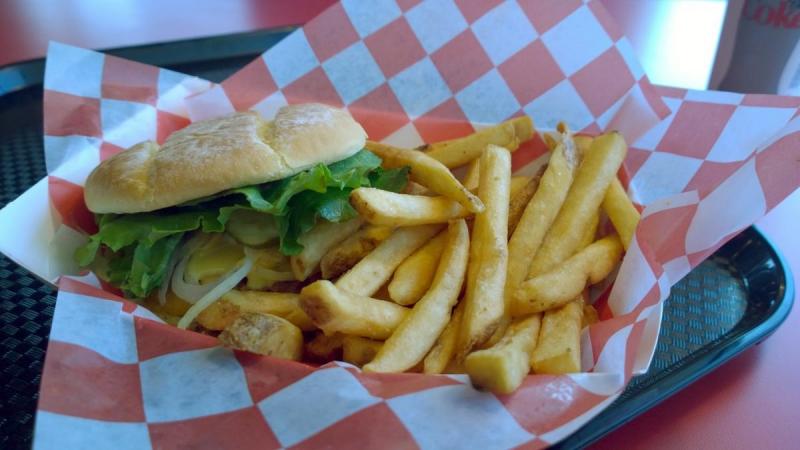 The burger came out a little more than 13 minutes after I ordered, which was a bit long, but I assumed the extra couple of minutes was grill time for my well done order. It came in a basket with an ample helping of thick (not Red Robin thick more like Wendy's thick) fries which were hot and tasty.
The bun of the burger was the first thing I noticed. It appeared to be a softer, sweeter looking bun which it was. I was concerned that the sweetness of the bun might draw from the burger taste, but instead it really enhanced it. The burger was a great flavor, not gamey. Juicy, but not fatty…. Huh, what do you know, no tomato and well done, just the way I ordered it. The cheese was melted and the bacon flavor was present in every bite.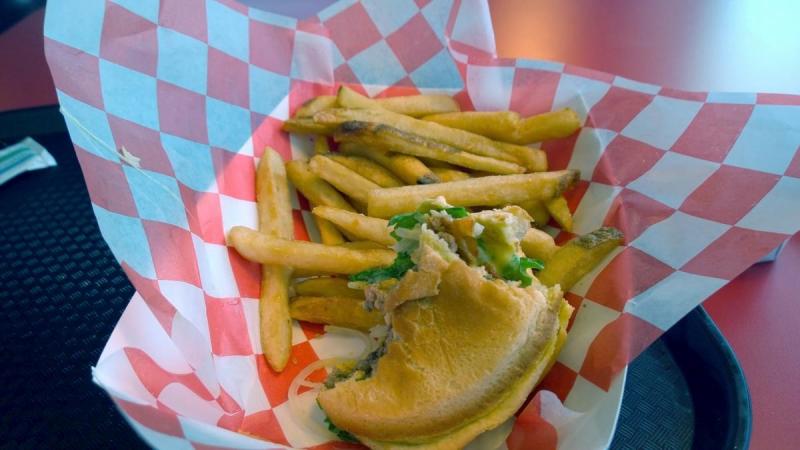 Getting towards the end you have to deal with what I call "bun management". That's when you try to keep everything within the 2 sides of the bun so your fingers don't get all messy. That's one thing I don't like are REAL messy burgers.. like someone is trying to prove that their burger is so insane, that you cannot contain the contents within the bun or something… which is complete bs. I true burger stays in the bun until the end. This burger did just that.
I got asked 2 times if everything was great, which is nice to have someone ask. So you ask: Sean, if you had to pick one thing that Teddy's could do better, what would it be? Online presence…from on online marketing standpoint, Teddy's Bothell is way behind the game. Go to their Facebook page… wait, there isn't one. (they TOTALLY have a Facebook page, in fact, here it is: https://www.facebook.com/TeddysBiggerBurgersBothell) Try to find them on Google Places… not there. Twitter? they don't have a @teddysbothell account on Twitter… only a @teddyswoodinville. I wonder if anyone has secured the @teddysbothell Twitter account yet? If I was going to give any feedback it is this: Bothell is a tight community. We support local businesses and when franchies come into Bothell, they have an uphill battle. We want people here that want to be a part of the community. New places like Teddy's Bigger Burgers and Zeek's Pizza have to compete with LONG TIME Bothell restaurants like Uncle Petez's and Carolina Smoke BBQ.. One way to win the heart of us Bothellites is to connect with us. Teddy's is great and IMHO are welcome in Bothell with open arms and bellies.
Overall a DAMN GOOD burger. I highly recommend checking them out.
Burger: Strong 4 out of 5 stars
Fries: Strong 4
Environment: Strong 4
Staff: Strong 4
Price: 3 a little on the pricey side, but I will still go back.