Doll House Baked Goods Move Into Country Village. Lucky Us!
There are new smells circulating through Bothell's Country Village. The smell of cookies, cinnamon, fruit and icing float through the village daily (reminds me of the way Mickey Mouse floated around when he smelled something good). What is the source of this deliciousness? Doll House Baked Goods owned by Bothell locals Stephanie and Christopher Doll. Located on the main boardwalk wedged between Quite the Find and the Garden of Beadin', Doll House Baked Goods are baking up some insanely delicious treats, breads and cookies that quite frankly left me speechless.
Doll House Baked Goods (206) 406-6801
821 238th St. SE Bothell, WA 98021 https://www.facebook.com/dollhousebakedgoods http://www.dollhousebakedgoods.com/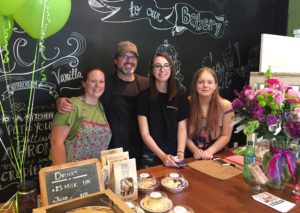 If Doll House Baked Goods sounds familiar, it should. They have been active at the Bothell Farmers Market for years. I remember a few times walking past them and they were almost sold out every time. Management of the Village approached Stephanie early this year and let her know there was a space opening up at the village and would she be interested in moving into a retail spot with a kitchen. Stephanie decided it was time and moved in and just like that Doll House Baked Goods opened their first retail location July 14th and haven't looked back since.
 With roosters crowing and gardeners weeding, I show up bright and early at Bothell's newest bakery to see what they had bakin' and to get the skinny on how they arrived at Country Village in the first place.
When you come into the shop you will notice a huge chalkboard wall with some great art. "We got Jenn from The Chic Boatique do the artwork on the chalkboard wall and we just love it! Christopher also added some things to the wall along with our two daughters have put their stamp on the chalkboard wall as well."
 Christopher is a science fiction artist and selections of his artwork decorate the walls.
Stephanie mentioned that she had been doing baking and special orders out of her licensed home kitchen for some time and has already seen a huge increase in the volume of baked goods that are getting sold, "Especially pies. We already do 3 times the amount of pies then we did before."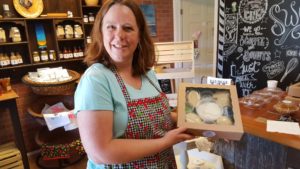 Pies, wow the Pies. Apple pie, cherry pie, peach pie, Strawberry Rhubarb and the famous JumbleBerry pie… if they sound good, believe me they are. I asked Stephanie, pies have been around forever, what makes yours so special you think? She said "All of my pie recipes are old family recipes… I also get all of my fruit from the farmers markets when they are available." You seriously can taste the difference.
Pies are not the only thing rising at Doll House Baked Goods. One of Stephanie's best sellers is her breads. She has many customers that come in weekly to get their bread fresh and before she sells out. "They love it.", she says. Stephanie's husband said he is working on getting their online store up and running so that folks can just have reoccurring orders for bread if they want. Online sales will be big they feel.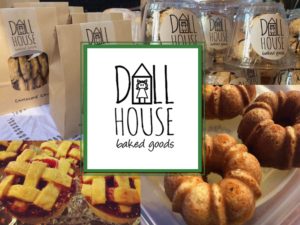 Long term Stephanie says she would like to open a market style shop, kind of like you see in New York. A place where shoppers come in daily and grab something, meat, cheese,… and of course baked goods.
"So, the bottom line, what are your best sellers", I spit out… Stephanie sighs… "Well, I would say it's our molasses cookies and chocolate chip cookies, Jumbleberry pie, cinnamon bread, shortbread jam cookies and our oatmeal cream cookies. When pears are in season, everyone loves the pear bread I make." Pear bread? Sounds good!