Canyon Park Starbucks is Open and COOL..
Was looking for a spot to sit and work for a bit this morning and decided to head down to the new Canyon Park Starbucks right next to Canyon's. They have a drive through, which is nice, but my guess when it gets busy, the road will get congested pretty fast. They have a nice little patio with chairs and umbrellas that you can sit at. It was HOT out there today, but I imagine on normal days it would be a nice place to sit.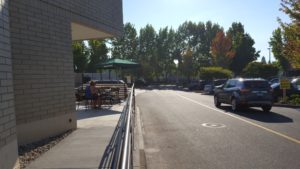 I came inside and the AC was awesome. Typical Starbucks music playing. Lots of places to plug in the ol' laptop. They were staffed really well and there was very little wait for my short drip (which is usually the case). The lobby is huge. Not sure about their hours yet, but my guess is that they will want to be a 24 hour drive through as they are so close to the freeway…. pull off, pull on. Wifi was fast, but no one was really here using it from what I can tell.
Now the question is.. do I hit the 4.50 egg sandwich here, or head over to McDonald's and get the 2.50 gut bomb… I'll stay here I think…