Vivendo Restaurant: A Hidden Jewel in Bothell's Restaurant Elite
I walked in in around 11:45 on a Friday to try out lunch. Noticed that the menu was a brunch menu and  I just about asked the waiter (who was professional, greeted me and was dressed sharp for the typical Country Village vendor) for a lunch menu because most of the items on the menu involved crepes. I love crepes, but I wasn't in a "crepe" mood. I wanted lunch; something a bit more substantial I thought.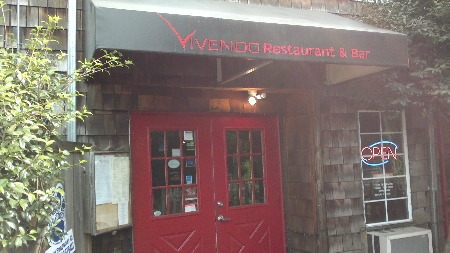 As I scanned down and noticed that there was an offering of Chicken Alfredo, I assumed it was prepared with the classic noodles. When it came to my table (quickly, within about 5-8 minutes) I was surprised to see that the chicken Alfredo was not served on top of pasta, rather a crepe! I would not consider myself a very adventurous eater, but I thought, I love chicken, I love Alfredo and I love crepes. I will give it a try. OMG.
First off, being in Bothell, we have some pretty good places to eat and there are some great Italian restaurants around but I have rarely seen a local dish that looked as good as it tasted. WOW, good stuff. The chicken was tender but cooked well, which is always an issue for me, I like my chicken cooked all the way through. The Alfredo sauce did not have a heavy garlic taste, yet there was garlic present and could be noticed, but it was not over powering. The serving size was adequate and filled me up. When having such a rich dish, I like to be portion controlled because I hate the feeling I ate too much. It was just the right size.
After my meal I was greeted by the owner of Vivendo Italian restaurant in Bothell Wa, Kleon who asked how my meal was. I gave him my feedback and he asked if he could sit for a moment, I believe he noticed that I was providing more than normal input about my experience, and Kleon might have thought this could be a free secret shopper experience he could learn from. We spoke for just a few minutes and gave him some minor suggestions about signage and lunch menu feedback and he was very grateful. He offered to pay for my meal (as we talked for 15-20 minutes) but I declined the offer. My intent was not to get a free meal, rather give a genuinely inquisitive restaurant owner some honest straightforward feedback. I paid my bill, which was just a scotia over the amount I expected for a lunch in Bothell, but definatly worth every penny I spent.
As I looked around the restaurant I noticed that they have a glass top on the piano and Kleon mentioned they have live music weekly. Patio seating in the summer and a full bar generously stocked with top shelf liquor. The ambiance is great and perfect for an intimate and discreet lunch meetings as well as a classy family dinner. . Overall I had a great lunch experience here in Bothell, something that doesn't happen often enough