Bothell Seahawks Rally at Carolina Smoke BBQ August 11th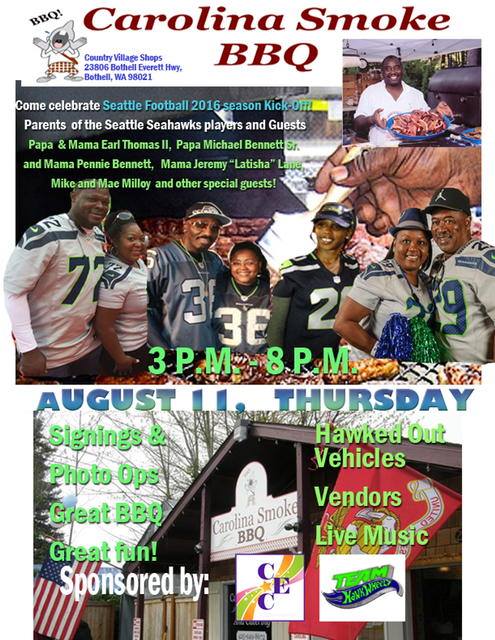 Carolina Smoke BBQ is hosting a Seahawks Rally at Carolina Smoke BBQ in Bothell at 3pm on August 11th!
Kick-off NFL season celebration that starts at Carolina BBQ located in Country Village Shops with leading families of Seattle Seahawks players for first time appearance!
Hawked out vehicles, vendors, live music celebration, great smoked BBQ pulled pork, chicken, turkey legs, and more will be on location! Come join Papa and Mama Michael Bennett Sr., Papa and Mama Earl Thomas II, Mama Jeremy "Latisha" Lane, Former Player Lawyer Milloy's parents, Mike and Mae Milloy, Former Seahawk Alumni Player Eddie McMillan and others who will be gathering with die-hard fans to rally and celebrate a start of another successful football 2016 season.
Signings and appearances with photo opportunities begin at 6 p.m. – 8 p.m. at Carolina BBQ!
Share the event with your hawk fan friends on Facebook HERE.