Bothell Blues Festival: Eastside Alternative to Bumbershoot
UPDATE *** BBF organizers are still looking for a few more local sponsors for the event ***
Try driving ANYWHERE on Labor Day weekend, let alone to Seattle for Bumbershoot is nothing but headaches. Having a local, eastside alternative to Bumbershoot is refreshing. Enter, the Bothell Blues Festival on September 1, 2012 from 11am-8pm at Country Village Shops. If you are around Mill Creek, Lynnwood, Kenmore, Woodinville or Kirkland, you NEED to check out this show.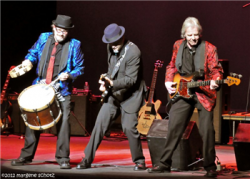 With this years slogan: "BBQ, Blues, Beer  and Bothell", people can be assured of a great blues festival experience. This year the guys running the Bothell Blues Festival somehow landed one of the area's premier blues bands, The Wired! Band. The Wired! Band recently (Feb 2012) won the 2012  INTERNATIONAL BLUES CHALLENGE on Beale Street in Memphis, Tennessee! These guys put on a show EVERYONE talks about. 
​There are many reasons why this trio is such a crowd favorite, the music is one reason, the other is how they interact with the fans. There has not been a crowd that has not gone home and said "Holy Cow! Those guys ROCKED". Kevin and the band actually come down into the stands and play! Talk about a show!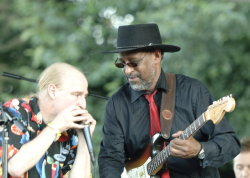 And to add  the AWESOME headliner, they were able to bring back Chester Dennis Jones and his band which headlined last year and ROCKED the house. Word on the street is that Jeff Herzog will be joining Chester again this year. Jeff is one of Washington states best harmonica player. With Chester's guitar and vocals, and Jeff's outstanding harp playing, that act is one of the best blues acts around.
​They  are also bringing back Gin Creek. Last year crowds were blown away by the vocals and keyboard of this great blues act and it was awesome having them back in the beer garden hanging out with fans after their set!
​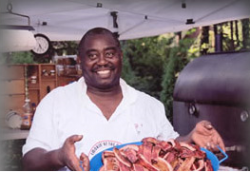 Blues is just one part of this festival. Lets talk about the BBQ. Dave Hayward and his team are smokin' up some goodness for this event. Last year Dave had slow smoke pulled pork and beef brisket sandwiches. This year he is bringing down one of his specialties.. his RIBS! Ask anyone, having Dave around means you are going to EAT WELL!
Last year event organizers were asked by almost everyone to bring the festival back this year as it was a great value for the price. But they just didn't bring back those acts, the also packed a bunch of other values into each ticket price. The $15 not only gets you all day in and out privileges at the event (5 bands), it also gets you a TON OF DISCOUNTS on your ticket purchase. There are over 20 different shops at the Country Village Shops that are offering specials for each wristband wearing festival goer. 
​Last but soooo not least,  let's talk beer garden. Yes, we will be having the well run, well stocked beer garden with Men's Room Original Red we will also be having some wine provided as well! They were asked over and over again to bring wine to the festival and now (Washington State Liquor Board willing) you will have it.
Support local music, support local business and have fun doing it at the Bothell Blues Festival.