Five Guy's Burgers and Fries Coming to Canyon Park!!!!!
Bothell Wa– YES IT"S TRUE!! Five Guy's Burgers and Fries are coming to Bothell!! Where you ask? Our sources say the old Hollywood Video in Canyon Park next to Bank of America. That whole corner can be hard getting in an out of and when you have a draw like Five Guy's Burgers moving in, it is going to be even more busy.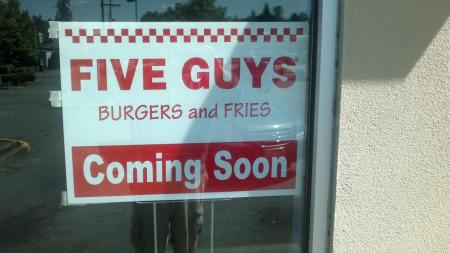 We are totally looking forward to having a Five Guys in Bothell, finally, Carolina Smoke BBQ will have some competition for lunch.. although, there is not a burger on planet earth that is better than a brisket sandwich says I.