Woods Coffee Coming to Safeway Plaza by Lake Pleasant
We have heard rumblings about a coffee shop going into the corner spot in the same little complex that Uncle Petza's is in by Safeway in Lake Pleasant. Come to find out, these rumblings are legit. I have always looked at the place and loved that drive through… yes, there is a drive through there. Next time you are at Safeway check it out, you can drive right behind that building.
ANYHOOOOOO. I emailed the Woods Coffee folks and they confirmed they are working to opening a coffee shop in that location.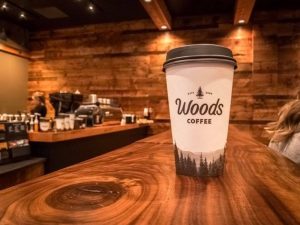 I'm cool with that. With Starbucks downtown moving out (for a bubble tea place?), we could use another coffee place. Yes I know, Starbucks is IN that Safeway and Gourmet latte is at the bottom of the hill along with Ladro and Beca's.. but what I like about this is that it gives that little shopping area a shot in the arm. It has always been… not busy in that area… perhaps this new coffee shop will spice things up a bit.
Their website says they are opening in April. I am trying to get some details.. grand opening, timelines… I have an email into Ryan there media guy. Hey RYAN! Call me back!! I want deets!
UPDATE: Ryan said Woods Coffee is opening on April 1st! That's just around the corner!
Here are some details about Woods Coffee:
CULTURE:
At Woods Coffee, we believe that every day is a new adventure. Whether you are dreaming about climbing that mountain, taking that road trip with friends, or simply trying to make it through your workday, we are here to FUEL YOUR ADVENTURE. If you can dream it, you can do it. Smile, you got this!
COFFEE:
Every cup of Woods Coffee starts with a relationship that MAKES A DIFFERENCE. When we source coffee globally, our goal is to discover great coffee to share with you, while also providing sustainability for coffee farmers. We are committed to honoring their hard work and positively impacting their communities.
ROASTERY:
Whether you enjoy a lightly roasted Single Origin or thrive on the boldness of a Dark Roast, the Woods Roastery in Bellingham Washington is dedicated to roasting coffee that awakens the explorer within. It's smooth, rich, and carefully crafted to ELEVATE YOUR ADVENTURES to new heights. Where will it take you?
BAKERY:
At the Woods Bakery in Lynden, Washington, we love to create culinary delights that put a smile on your face. Each item is made from scratch and delivered fresh to our stores every day. Whether sweet or savory, these handcrafted treats are the perfect sidekick to help you CONQUER YOUR DAY! We have a feeling today is going to be great!