Cairn Brewing Releasing What Beer Drinkers Want
One thing that I love about our Bothell/Kenmore/Woodinville community is the way that our local small businesses create and release products that customers actually want. A great small business listens to their customers and adjusts to the needs of their market. Cairn Brewing in Kenmore (7204 NE 175th St bldg a, Kenmore, WA 98028) has been doing this for years and they have done it again just in time for holiday shopping. If you know someone who loves beer, this Thor Pack sounds like the right way to go.
Below is their press release for more details. My suggestion would be to head down there and check it out in person. If you are more the online stalker type, here are their online spots: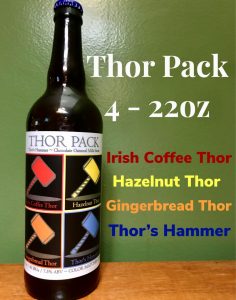 Press Release:
Cairn Brewing Will Release Limited Edition "Thor Pack" of Their Award-winning Thor's Hammer
Cairn Brewing, a community-minded brewery and taproom in Kenmore, will release a limited edition "Thor Pack" on November 18, 2018.
Cairn's Thor Pack is a set of four 22 oz. bottles each featuring a version of their award-winning Thor's Hammer. Thor's Hammer is a Chocolate Oatmeal Milk Stout, a perennial favorite in Cairn's taproom and at local beer festivals. The four bottles will include the award-winning Thor's Hammer plus three infused versions, Gingerbread, Hazelnut Praline and Irish Coffee. The three infused versions of Thor's hammer will be available exclusively in the Thor Pack. The Irish Coffee-infused Thor's Hammer won first place in both the Underground Special Beer Award and People's Choice Award at the Bothell Underground Beer Festival in October of this year. Thor's Hammer is a year-round beer on Cairn's tap list and won the gold medal in 2017 and the silver medal in the Washington Beer Awards as part of the Brewer's Festival in Marymoor Park. All the Thor versions come in at 40 IBUs and 7.5% ABV.
Jen Boyd, Cairn co-owner, said "We've played with infusions of Thor's Hammer, and it's always a fun experiment to see what people enjoy. So many customers asked for more Thor, especially to share around the holidays that it seemed like a fun way to get more Thor into the world. And, the most fun part is that it's named for the very first member of our beer-tending team, Thor."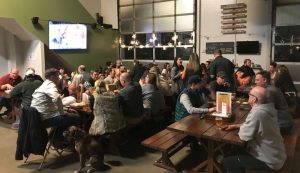 Cairn Brewing is an award-winning brewery and taproom located along the Burke-Gilman Trail in Kenmore. Featuring hop-forward beers and lagers brewed on-site, there are currently 20 distinct options on-tap ranging from German Pilsner to Stout (and often an off-list beer or two). The casual setting is family and dog friendly, offers both indoor and beer garden seating, and features light snacks and daily food trucks. Patrons are invited to view the brewing area, relax on couches or at communal tables, play games and enjoy time with family and friends while sampling freshly brewed craft beers. More information about Cairn Brewing at www.cairnbrewing.com and https://www.facebook.com/cairnbeer/.