Free Fitness Classes at Orange Theory Bothell
Orange Theory Bothell has a great offer for us locals:
It can be a challenge to create time in your day for something you probably don't want to do.  We'll make it easy; no thinking involved, and you get a scientifically efficient workout to maximize your time so you can get back to what's gives you #MoreLife. 
In just 60 minutes, use every major muscle group in your body to shred body fat now, increase your metabolism, and burn calorie POST workout.
 Laura puts in WORK every hour she's with us
"I've been a member of OTF Bothell for just over a year and am still amazed by how helpful the staff are, how inspiring the coaches are and the overall sense of community amongst the members. And I am getting amazing results!" -Laura H. from Bothell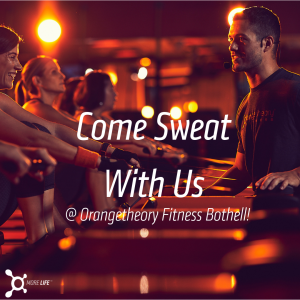 Benefits of an OTF Bothell workout?
🍊Improved total-body conditioning
🍊High caloric burn
🍊Improved muscle endurance, strength and power
🍊Improved agility and coordination
🍊Improved speed
🍊The chance to work with and get familiar with different types of equipment
🍊The energy of group training, with the special attention of personal training
Interested in taking a free class? 
STEP 1: 👇
Call or text (425) 318-7353. OR click "Book Now" on our Facebook page! OR click the link below (we're making it too easy)
https://bothell.orangetheoryfitness.com/
 STEP 2:
Check out this article about OTF & maximizing fat-burn in every class to accomplish your fitness goals on time.

📍 22627 Bothell Everett HWY Bothell WA 98021 (Located in Canyon Park, next to PCC & Petco