I Rented Skis at Bothell Ski and Bike
Winter is here and I needed to get a ski setup for my son. I was thinking about just buying something online, but decided to head down to Bothell Ski and Bike. Even though their name has Bothell in it, technically they are in Kenmore (8020 NE Bothell Way, Kenmore, WA 98028) … I won't hold that against them.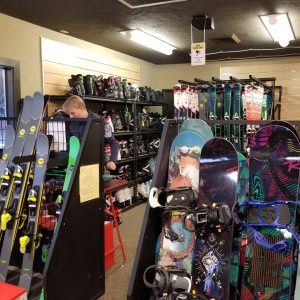 I walked in and was greeted by a young guy who was happy to answer all my questions. Apparently we waited to late in the season to rent the really used stuff, so we had to rent a new set of skis, boots and polls. YES I could have gone onto eBay and got a used set, but I wanted to make sure this setup fit him perfect. The employee was great, asked all kinds of questions and got us set up with a real nice set of skis, polls and boots. It was kind of pricing, but not too bad I guess. I can rent these skies until May, then I will have the option to buy them or just give them back. My guess is my kid will outgrow the setup for next year, but let's see how much they want for them when May rolls around.
The bike selection was insane. I am not a big biker, but after seeing their inventory, I wish I was. The bikes these days are super lightweight and durable. The have better shock systems then my 4Runner. Also, they have a huge bike repair shop inside the store. I noticed they do tune ups, which my old beach cruzin' bike could use. The place was clean, plenty of employees to help me out. I got there around 12:30pm or so, no lines, in and out.
Overall I had a great experience at Bothell Ski and Bike. They have snowboards for those of us who snowboard as well. I really wish they would have had K2 skis. To me, K2 is a local company who has roots right here in Seattle.
[ngg src="galleries" ids="4″ display="basic_thumbnail"]