Two Bothell Seniors and a Bothell Business Get Ramps Donated
Two Bothell seniors and a Bothell business are getting new ramps built for them all courtesy of the Master Builders Association, Westhill Inc, Chermak Construction, Builders Capital and Dunn Lumber. Bothell business Cathy's Cuddlers and two local Bothellites are part of the 2015 Master Builders Association's (MBA) Rampathon event. The event is part of a volunteer effort organized by the MBA. Every spring they get together and build ramps for those who are in need. Dunn Lumber is partnering with them this year.. did you know that Dunn Lumber has been around since 1907? That is PRE-World War 1 people!!
They will start their projects Saturday, May 16, 2015 at 10 a.m.
To be part of this year's event as a ramp captain, contributor or volunteer, please contact Community Stewardship Manager, Michell Filleau-Maas, at [email protected] or (425) 460-8232.
Here are the details around the Bothell Event:
•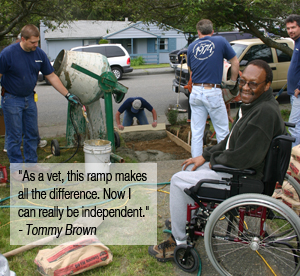 Cathy's Cuddlers, Cathy Ramish, owner – a 24-hour integrated special needs childcare serving children from birth to age 21 and beyond. Many attendees require walkers or wheelchairs.
• 80-year-old Marjorie Cirillo, who uses a walker and wheelchair due to hip arthritis, cellulites and a venous stasis ulcer.
• 79-year-old Patricia Moody has been impaired for over 40 years and uses a wheelchair for mobility.
Here are the location of the ramp builds:
Cathy's Cuddlers
10036 NE 201st St.
Bothell, WA 98011
Marjorie Cirillo's home
21721 8th Place W
Bothell, WA 98021
Patricia Moody's home
23825 15th Ave SE
Bothell, WA 98021