Neighborhood Pizza Parlor: Zeek's Pizza in Bothell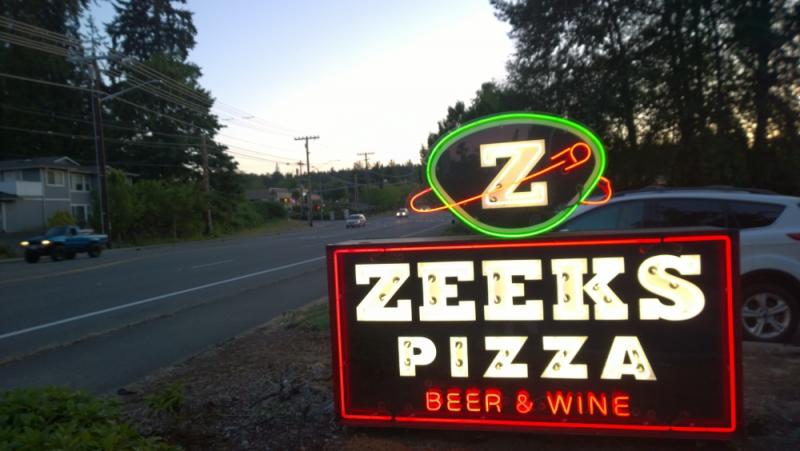 We finally had a chance to check out Bothell's newest pizza restaurant, Zeek's Pizza. We swung in around 6:30-7:00pm on a warm Friday night. Friday nights are pretty hoppin' at Zeek's, so we expected a lot of people to be there and there were. Zeek's Pizza in Bothell is located at
1715 228th St SE #106, Bothell, WA 98021
right next to
Jalisco's
and the
Public Storage
building just past the Canyon Park QFC. 
We pulled in an immediately noticed parking was a bit of a mess. Granted, it was a sunny Friday night and everyone was out and about so we kind of expected it to be packed. We ended up parking in the Public Storage parking lot since they were already closed. Right when we walking in I noticed that the temperature​ was a little nippy, but after a couple of minutes, if felt comfortable. 
The hostess sat us right away and we got a table by the bar. Since my son is only 5 I was concerned about sitting so close, but it ended up being fine, Zeek's does a real good job at dividing  the dining room and bar area, while keeping the social aspect still in tact. The restaurant has 5 flat screens that were mainly playing sports hockey being one of them. They have a happy hour (3pm-6pm) with some great deals on brew. No sound on the TV's which I like, but they did have a nice mix of music playing in the background, everything from Tom Petty to Green Day. The tables are spaced out nicely and you don't feel cramped even though there are a ton of people around you. They have a great outdoor patio area that will be nice this summer (see the picture below).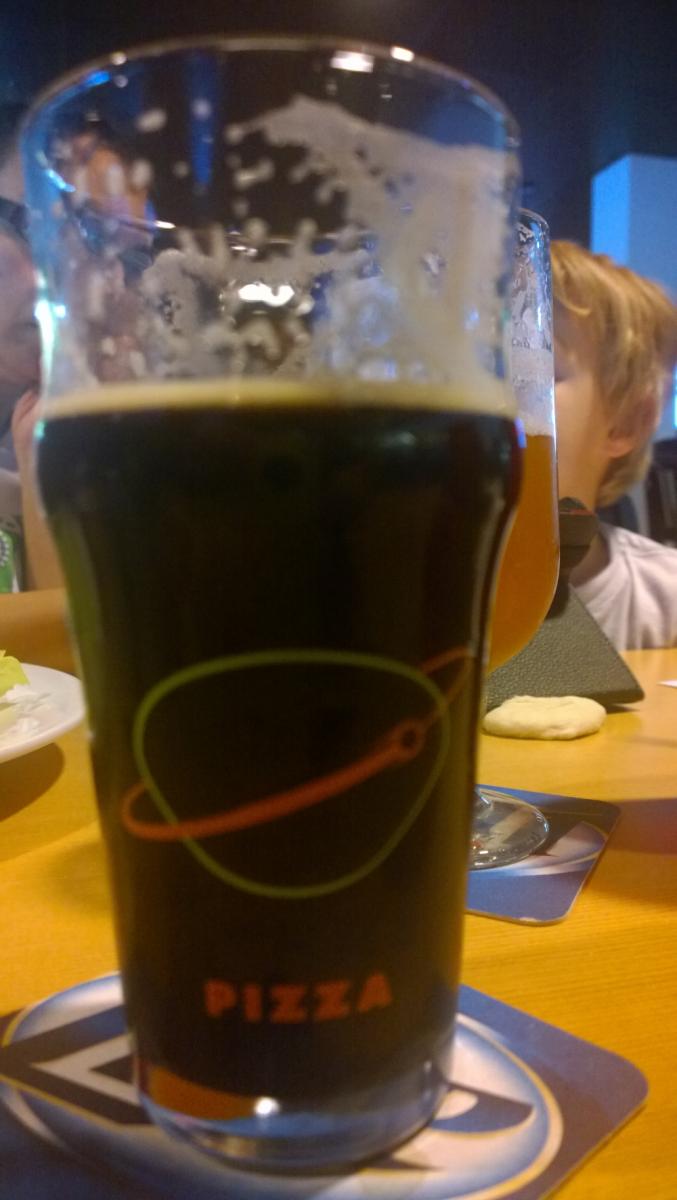 Our waitress came right away and took our drink orders, my wife and I both had a beer. Zeek's has a HUGE selection of craft beer, in fact, they carry one of my local favorite,
Foggy Noggin
, who are based in Bothell. They also have a
Rueben's Brew
, which as far as I know is not offered anywhere else in Snohomish County. My wife ordered the Rueben's and she loved it. I am a Foggy Noggin guy. Both beers came icy cold and fresh. Good stuff. Then, the waitress came back and took our order. 
My wife ordered the Zeek's Greek salad, I ordered the Puget Pounder, minus the mushrooms. Speaking of mushrooms, I hate it when people say "Why don't you like mushrooms? You can't even taste them!?!?!". If you can't taste them, then why the hell do they put mushrooms on pizza in the first place?? Bugs me. Anyhow, like I said, I ordered the Puget Pounder no mushrooms and asked for it well done.
The wait for the food wasn't to long. I looked around and noticed that they had 11 people working in the kitchen, 6 people working the dining room and 2 bartenders and everyone was working, so they had plenty of folks on staff during this rush. Zeek's has free wifi which was nice as I could do part of my blog while I was sitting at my seat (thanks Michelle for agreeing to entertain Charlie while I was writing, they also give the kids crayons and a fun sheet to draw on). We couldn't get one of our devices (I think the Kindle) to connect to the wifi, but everything else did just fine.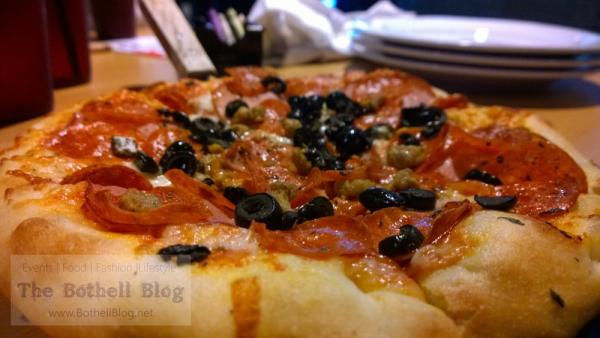 When the pizza came, it was exactly as I asked, no mushrooms and well done. Perfect. I got the small as I knew I wanted to check out a desert, and the small pizza was enough for me and my son. The crust was light and fluffy with a hint of crispiness on the bottom. Apparently they hand toss of their dough. I don't like a lot of sauce on my pizza and this pizza had the perfect amount. There was also something about the sauce, it flavorful, but it tasted richer for some reason. I could taste the sauce AND the ingredients which were mainly meat. The pepperoni was thinly sliced and not over bearing on the pizza. The sausage was tasteful, but wasn't over powering as well. A really good mix of ingredients. The pizza was not overly greasy even though it had a ton of meat on top. The olives were really good, very flavorful. I really like the pizza.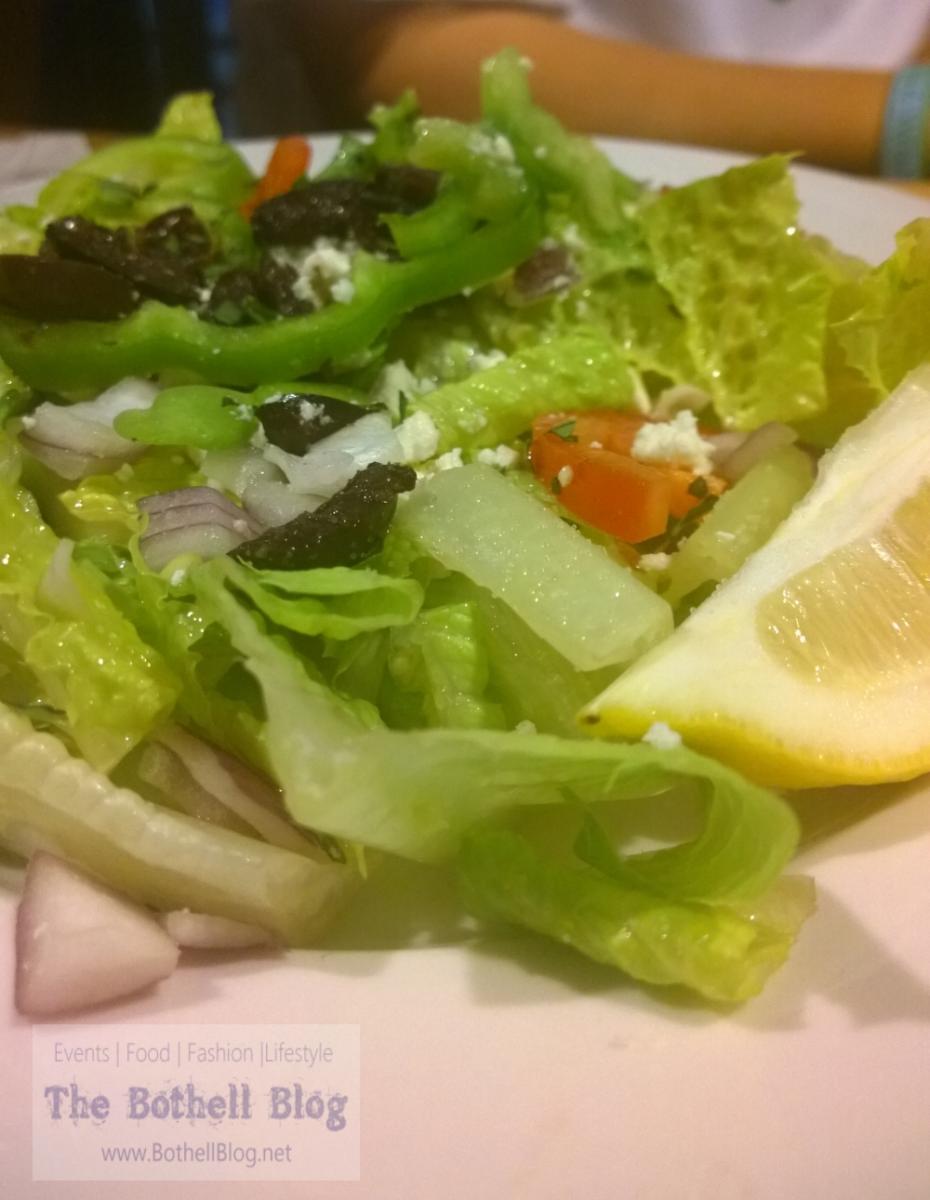 My wife enjoyed the salad, it was pretty large for a side salad and she said the dressing was great. We have had some pretty intense Greek salads before, so it does not surprise me that she said the salad wasn't the best she had… she still liked it though. The salad came before my pizza so she ended up helping me out with my Puget Pounder. The waitress came around a few times to make sure everything was ok. Service was stellar.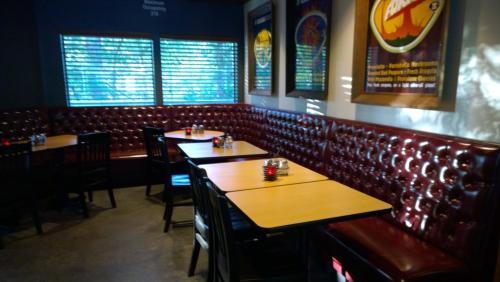 The bar area is really nice as well. Lots of choices of local beers and wines, lots of bar seating as well as some great booths in the back. When we were there, there were 4 couples sitting in the bar and a couple of loan wolfs. The bartenders seemed happy and were engaging the patrons regularly. No hard alcohol which is a bummer, but the large selection of beer and wine is enough to satisfy. 
We ended up ordering desert after dinner. We ordered a root beer float and a chocolate chip cookie Sunday thing. The desert took a while to get to get to the table, not sure why because by that time, there was half the customers then when we started. Come to find out the chocolate chip cookie sunday was a totally worth the wait. It came out in a skillet type pan and had a fresh chocolate chip cookie at the bottom with ice cream and chocolate drizzled on it. The Bomb.com. Good stuff. The root beer float was great too, awesome ice cream.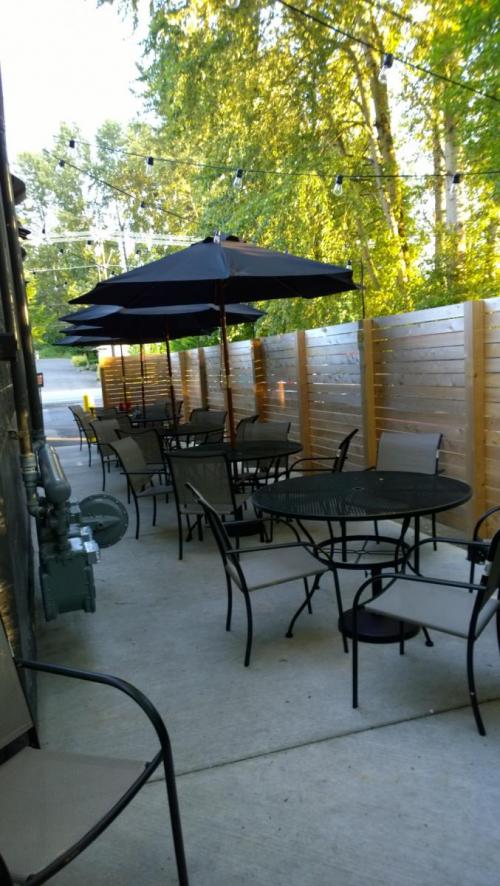 A huge part of
Zeek's Pizza's
business is delivery. Most people don't even know they have delivery, but they do, and it is quick I hear. They deliver from downtown to Thrashers (a little past) and from Hwy 9 to Locust. Pretty large delivery area. Their website is pretty easy to navigate.. there are some strange little quirks you need to figure out on the site, but you can totally customize your pizza how you like it. You can also call them at (425) 893-8646.
Conclusion: Zeek's pizza is a GREAT place to bring the family for dinner. I would describe the vibe as "social". Everyone is talking and having a great time… reminded me of Shakey's Pizza back in the day. The pizza is rock solid and you can tell they know what they are doing in the kitchen. The beer and wine selection runs deep. The service was top notch, the staff was helpful professional. For the food, I think the price is reasonable, it wouldn't say it is cheap, but this is not cheap food. There is quality throughout. For a franchise (local franchise) Bothell Zeek's Pizza has a surprisingly neighborhood feel to it. I was told that Chad the owner has lived in Bothell most of his life and even graduated high school at Bothell High. No wonder why it feels like our new neighborhood pizza joint.
Pizza: Strong 4 out of 5 stars
Salad: 3.5
Environment: Strong 4.5, very social vibe
Staff: 5 no complaints
Price: Good value for my money