John Howies new Bothell Restaurant: Beardslee Alehouse and Wildwood Spirits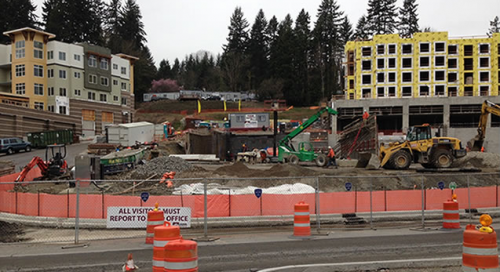 The Seattle Magazine had a great article on the new John Howie restaurant moving into Bothell called Beardslee Alehouse and Wildwood Spirits (no website?). Located in the new HUGE development going in next to the UW Bothell campus, this place is really going to be nice, 200 restaurant seats, 80 bar seats and 60 patio seats! I looked up the domain name BeardsleeAlehouse.com and it appears to be owned by John Howie, so we can assume that will be the website eventually. The article listed 10 cool things about the new restaurant that some of us would have never known, check it out:
State laws prohibit a distillery and brewery to be one entity, so the brewery and distillery are two different companies entirely, "which is kind of funny, "says Howie, "because you basically use a beer or a low wine to make distilled products and so they work really well together." While the two businesses are not connected (by law), they're very close: across the hall from each other.
Liedholm has one more test to go (in May) before he possibly becomes a Master Distiller.
The distillery is named after the street Liedholm grew up on in Michigan. In fact, the Wildwood Spirits logo is an etched drawing of his old house.
Brewer Drew Cluley, formerly of Big Time Brewery and Pike Brewing, will be in charge of the beer.
Expect simple foods, like burgers, brats and flatbreads. Everything will be made in-house: they'll grind and cure their own meats, and make their own bread (including the burger buns), pretzels made from spent grains (brewer's grains), and pretzel rolls for the bratwurst. Mark Hipkiss, executive chef of John Howie Steak, will be helping to make the charcuterie.
The dining room tables will all be made from a 200-foot sequoia tree that was planted by one of the property owners about 50 years ago. The indoor fireplace (there will also be an outside fire pit) will be made from base of the tree and Howie is hoping there will be enough wood left over to make the siding.
There will be about 200 seats in the dining room, another 80 or so in the bar and about 60 patio seats.
On tap: 12 alehouse beers and 8 wines (the only way they're serving wines. No bottles here.) The wines will come from top local winemakers, like Mark Ryan. 
The names of the ales will be named after the trees removed from the property or potentially lumberjack terms to keep it all tied together.
Howie says Beardslee and Wildwood will open in September.
When we hear of grand opening details, we will let you know. If you want to read the full Seattle Magazine article you can find it here:
http://seattlemag.com/10-things-know-about-john-howies-new-alehouse-and-…