CIty of Bothell – Waste Management Breakup?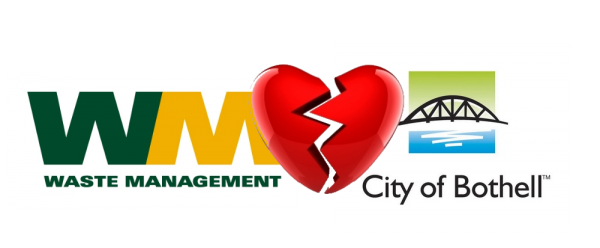 Hey Bothell, if you are sick of using Waste Management, now is the time to contact the Bothell city council. City of Bothell is currently "in negotiations" with CleanScapes to take over trash collection. Changes will go into effect at the end of the year when Waste Management's contract expires. The City council is meeting on the 20th to discuss the negotiations. The I am always thinking on the "House of Cards" side of things when it comes to these sorts of talks.. wondering if the city council just releases these stories to the press in an attempt to put pressure on Waste Management to lower their prices.. who's getting kickbacks… is there some high powered Waste Management lobbyist who takes members out to dinner at Bonefish or "donates" a new couch from Bothell Furniture…. who knows. Regardless, if it means no rate hike, I am all for it.
The current contract with Waste Management in Bothell has already been extended for 2 years and apparently there is rate increase coming (around 7%)… and this is why the Bothell City Council is shopping around for alternatives.
The city of Bothell is in negotiations with CleanScapes to assume garbage services at the end of this year when the Waste Management contract expires in December. The current plan is for Waste Management to keep the newly annexed King Country Bothellites and the rest will be given to CleanScapes. The plans could change though.
For me, I would rather have a local company take my trash, keeping my dollars in our local community. Now before you start thinking that CleanScapes is a local company, they are not. They WERE. CleanScapes is owned by a company that I believe they are based out of San Francisco… West coast parent company is more local than East coast I guess. YES I KNOW that there are local people working at these companies so don't email me about that, I really would like to see more local investment in Bothell businesses…
Anyhow, take 10 minutes out of your day and call or email the city council to let them know what you feel:
Josh Freed: 206.714.1721 or [email protected]
Del Spivey: 206.355.2177 or [email protected]
Andy Rheaume: 206.999.8835 or [email protected]
Bill Evans: 425.481.1419 or [email protected]
Tris Samberg: 425.486.3256 or [email protected]
Mark Lamb: 425.368.4238 or [email protected]
Tom Agnew: 425.444.9494 or [email protected]