Village Wines: Great Spot to Work and Gather in Woodinville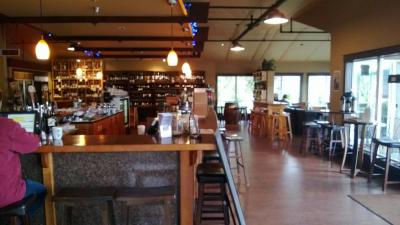 Working with small business clients, we often are on the road, or meeting people in places other than our Bothell office. When working with our Woodinville clients, we tend to head over there to Woodinville to do work and hang out. We found a cool little place (thanks Carmin) to work and enjoy everything from French pressed coffee to great local wines. Its called Village Wines. What we like about is is the laid back, wine crowd kind of feel that it has. We came in the morning and there were only a hand full of people there.. most of them having 1:1 meetings and the others on their laptops doing work. I could tell that the people on their laptops were all Microsoft employees, how? All of their laptops have similar features… anyhow, that is besides the point. 
The WiFi network and password is: RelentlessPublic Password: thevillage. If it has changed, just ask the Village Wines barista and they will be willing to tell you what it is.
What is really cool is their Tuscan Room. This meeting room can hold 50 people and has some great meeting room features: 58″ Samsung Plasma monitor for vibrant presentations, complimentary wired or wi-fi FIOS internet (25MB/second), 25 concurrent laptop power connections and full 7.1 surround sound system. It is available to rent,Awesome.
Overall we loved the experience, and I think we have now found our new place in Bothell to hang out, work, eat, drink and BS, Village Wines.