Bothell's Favorite BBQ Shop is Celebrating 4 Years!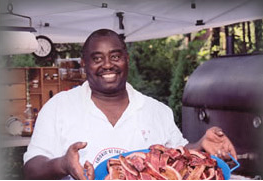 We can't believe it. It has been 4 years since Dave Hayward opened Carolina Smoke BBQ and Catering up in Country Village. Dave and his crew are celebrating this 4 year with a huge party including live blues from local blues player and cornerstone of the Bothell Blues Festival, the Chester Dennis Jones Band as well as a ton of food specials.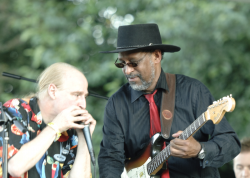 Every year Dave throws a great party and people love it. It is a really great way to spend the afternoon. Dave has beer on tap, LIVE blues from 1-2 or 3, and he will have both of his smokers pumping out some of the best BBQ this side of Steven's Pass. Here is what he is making this year according to the Carolina Smoke BBQ Blog:
"Smoked Crab Mac'n Cheese: Dave smokes his mac'n cheese and for this year's anniversary party is going to mix in some delicious crab into the process. It is going to be OFF THE HOOK!
Dave's Rib Platter: Which includes 2 slow smoked baby back ribs, 2 spare ribs and 2 beef ribs. Any ribs fan's out there? You dont want to miss this one! 
Limited Carolina Foot Long Hotlinks: Dave is going to have only 10 of these made for the party. This is a link especially reserved for Carolina Smoke and are delicious! There are only going to be 10 of them, so if you want one, call Dave at the shop and reserve one.
Fresh Smoked Salmon: Dave has asked for some fresh salmon for the anniversary party as well. Dave will be smokin up fresh salmon and if you have not ever had a chance to have this salmon, it is so tender and delicious, it will blow your mind.
Rib Eyes: Every year Dave and the crew hand cut rib-eyes and surround them with bacon and grill them up. This year will be no different. We don't cook them until you order them"