Bothell Blues Festival 2013: A Day to Remember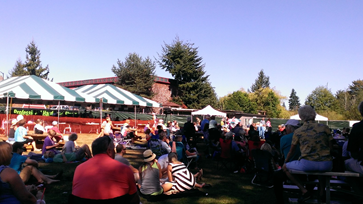 Blues, Bothell, Beer, and BBQ! The Bothell Blues festival was fun, delicious, and enjoyable for people of all ages. The smell of BBQ from Carolina Smoke filled The Country Village and was a perfect compliment to the beautiful sunshine on Labor Day weekend. The beer garden was also a great compliment to the blues music and relaxing sounds of Eric Freeman, Palmer JCT, Stacy Jones Band, Chester Dennis Jones, and Wired. The beer was provided by Bothell's own Foggy Noggin Brewing and was accompanied by Bothell's Open Road Winery. The nice cool beverages under the hot sun were just one of many bright spots at the festival.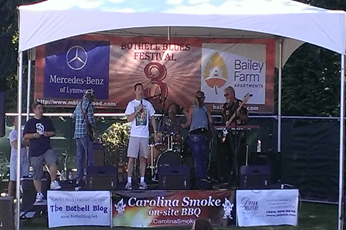 Looking around and witnessing young children, elderly couples, young couples, parents, grandparents, all dancing was a wonderful and heartwarming sight. One of the most talked about features in the park was the Porta-Lisa, which was sponsored by locally owned 411 Plumber. Between the blues, BBQ, and beer, there was a slight interruption, but it was for a good cause. Help Our Woods, which is a non-profit group of residents and businesses defending natural refuge in the heart of Bothell, took the stage to stress their concern about the increasing of development and the tearing down our local forests. They were one of many booths at the Bothell Blues Festival and if you missed their information on ways to help please click their link and find out how you can contribute!
By the end of the 9 hour Bothell Blues Festival, many left the Bothell's Country Village with their clothes smelling like BBQ, a little tan, and humming a melody they have stuck in their head. Memories were created as we capped off our summer and look forward to next year!