Bothell High Graduate Wins Gold Medals at Weekend Jiu Jitsu Tournament
Bothell, WA – October 2, 2011 – Bothell High School Class of 2007 graduate Liz Tracy remains undefeated in Brazilian jiu jitsu competition after taking home two first place gold medals at the Oregon Open this past Saturday in Hillsborough, OR.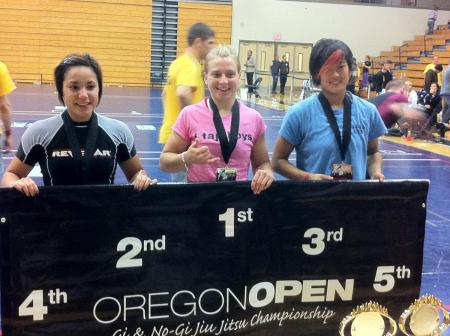 Tracy, 23, won first place in both the gi (traditional martial arts kimono) and no-go (submission wrestling) divisions.  She also took home a trophy for fastest submission, the spoils of a three-minute rear-naked choke victory in the no-gi division.
            "I had competed in two other tournaments before the Oregon Open but I had never competed in no-gi so I was very nervous," said Traci.  Those nerves escalated when she was bumped up to the 150-pound division due to a lack of participants at her weight.  Her coach spoke to tournament organizers and Liz was given an option; fight opponents 25 to 30 pounds heavier, or fight at her own weight in the advanced division.  She chose to fight tougher competition in her own weight class.
"It all paid off in the end," said Tracy.
After a thirteen-year amateur wrestling career, three of which were spent at Bothell High, one of Tracy's best friends introduced her to mixed martial arts, a sport which combines elements of wrestling, kickboxing and jiu-jitsu. "I really enjoyed Bothell High," Tracy said in an interview last week with women's Brazilian jiu jitsu clothing site "I Tap Boys" (itapboys.com).  "Being the only girl on the team was interesting at first, but I had awesome coaches that stood by me and saw my potential."  Her potential lead her to three consecutive state wrestling championships in the 4A Division.  She later joined an MMA gym in Washington before moving to Five Rings in Portland, where she is preparing for her next cage fight in November.
Tracy, who is the first sponsored athlete of the "I Tap Boys" clothing line, is currently attending Portland State University, working towards her Bachelor's Degree in Health and Science, after which she plans to attend Pacific University in Forest Grove, OR for her Doctorate in Physical Therapy.
Contact: [email protected] * www.itapboys.com * facebook.com/itapboys 425-770-0787