Santa Arrival in Bothell's Country Village December 3rd at 7:00pm
It's that time of year again and Santa is on his way. There will be family events and happenings all afternoon so get to the Country Village early to get parking. This by far is the most cherished event in held in Bothell….perhaps the entire Eastside.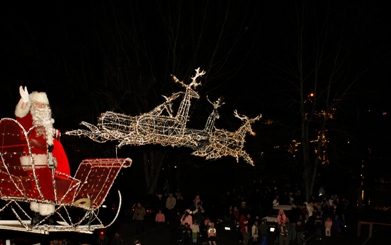 Santa's Arrival will be happening at 7pm, so make sure to get to Country Village early to get parking and some hot drinks for you and the kids at Country Village's best and only coffee shop, The Village Bean. Complimentary hot roasted chestnuts will be served at 4pm.
All day on the main stage will hosting local choir groups and a traditional Christmas tree lighting will also be happening along with announcements from our own Town Crier.
The Christmas Grinch will be roaming about from 3pm-7pm. As always, the Iron Horse Railway Train will be running all day. Pony rides will be out for a one day appearance from Noon-4pm. A great day of activities for the family. Once you and your family come down for this event once, you will be hooked. Trust me.
Call 425-483-2250 for more information about the event.