Bothell Man is Ending his Year Long Quest: Having Billy Idol to Play at his Birthday Party
I don't know Bothell's Michael Henrichson, but I admire him. He has something that many American's today are lacking: initiative and tenaciousness.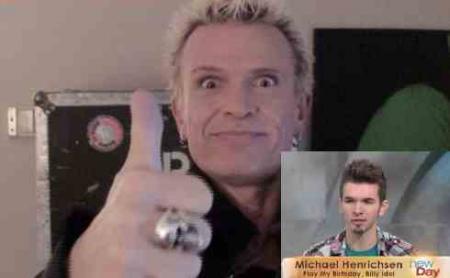 We have been following Michael's quest to have Billy Idol play at his birthday party and we heard today, that Idol is not going to be be playing at this party and Michael is calling it quits. However, Michael isn't calling this a failure… and neither do I.
We hear all of the time about how people are so sad about the way our economy is going, how they do not have the guts to start a business, how they don't want to take the risk and how they dont have the time to chase their dreams. Americans have been groomed (by the rest of the world) that it is ok to say we CAN'T. This fact frankly rubs me the wrong way. America was founded and built by people who were told they CAN'T but they DID. They had faith. Michael's story is really a story about faith and about how even though we do not necessarily get what we want, we usually get something we need.
Michael had a dream and he went for it. He took initiative and created a website called Play My Birthday Billy Idol. He found local media outlets, blogs, news stations, reporters and got his message out there… he didn't just focus on local press but went to national media folks as well. At times he heard nothing back, he did not give up he was tenacious, he kept at it..  he did some fundraisers in local clubs got attention of some larger celebrities such as Kevin Nealon, Apolo Ohno and Ron Jeremy. (videos below).
With no word from Idols people, Michael kept with it and finally received this video:
Not bad. So in his quest for getting Idol to play at his party, he accomplished much more than what was expected. Number one, Idol might eventually come play at his party next year. Second, the connections he made along the way are worth a lot. Night club promoters have noticed his ability to work on projects and organize events. In fact the website MyNorthwest.com published his comment "He so impressed concert promotion giant Live Nation, the company offered his 80's cover band Nitewave the opportunity to wrap up the effort by headlining an 80's party at the Showbox at the Market in a fundraiser for Northwest Harvest and the Red Cross."
I like Michael. I wish I had more friends and colleagues here in Bothell were like Michael. More Americans need to look at Michael as a model of how to get things done.