Cold in Bothell and Ice Carver David Westberg Couldn't Be Happier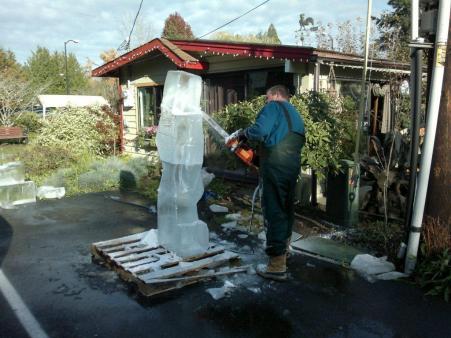 You know how to tell if it is getting cold in Bothell? Bothell's own wood and Ice Carver, David Westberg is firing up his electric chainsaw and starts carving up some incredible Ice sculptures.
We were spending some time in Country Village in Bothell and came across David starting an ice sculpture right next to the shop of another very talented Bothell artist, Dennis Brown.
The winter season brings out some of Bothell's best artistic talent. Strolling through the Country Village we were reminded about how talented some of these folks really are. David is a perfect example.
David has been working is magic with wood for some time. His company Rainy Day Bears has been creating great wood sculptures bears, eagles and frogs for years. Chances are you know someone who has a David Westberg wood carving. Besides the mainstream wood carving art that he does, David has some very high end pieces that have been shipped all over the country, adorning hotel lobbies to corporate headquarters. We asked David if he is available for hire and he laughed, "Of course, nothing pleases me more than getting paid for what I love to do..". He does love what he does, it shows in his work. Check out this video: