Bothell Household Hazardous Waste Collection July 8th-10th
Finally I can get rid of that old car battery in my garage. Toxic drop off coming to Bothell July 8th-10th at the Seattle Times building parking lot in Northcreek. The "Wastemobile" will be open from 10am-5pm each day.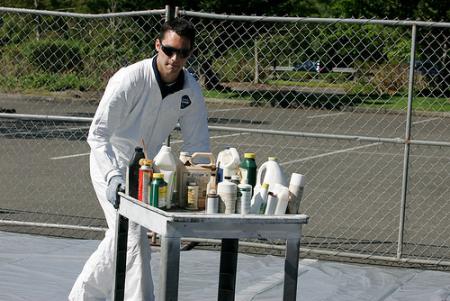 Some things you can drop off are: Old car batteries, oil based paint, oil, pesticides, other automotive products like antifreeze. Here is a complete list of what you can drop off at the Waistemobile.
There is no charge for dropping off stuff because residents already pay for this service through their garbage and sewer utility bills.
Looking for reusable household products? The Wastemobile will provide free products to the public, such as oil-based paint, stain and primer, plus wood care and cleaning products. These products are subject to availability, and residents will need to sign a release form prior to receiving materials.
For more Wastemobile information, including acceptable materials and quantity limits, call the Local Hazardous Waste Management Program's Hazards Line at 206-296-4692, Monday through Friday between 9 a.m. and 4:30 p.m., except holidays. Recorded information is available after hours. Information is also available on the Wastemobile website at www.govlink.org/hazwaste/house/disposal/wastemobile/index.html.