Back to School: A Bothell Parent's Experience
It's that time of the year in the Northshore School District, BACK TO SCHOOL!! The Bothell Blog ask some of our readers to send in their "first day of school experience". Thanks everyone for their responses, here is a response from one of our local parents: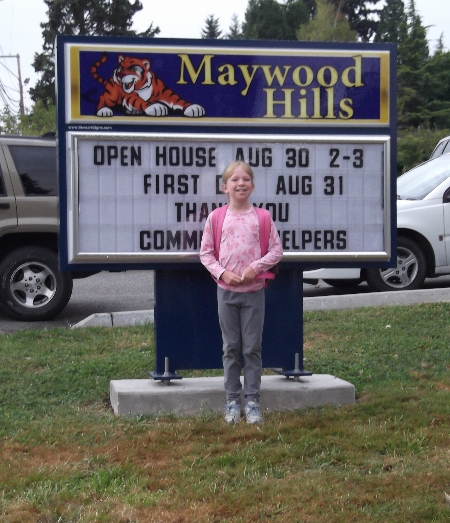 "Today was my daughter Libby's first day of fourth grade.  My husband and I took her to school together, as we always do on the first day of the new school year.  As usual, the campus was a sea of mothers with cameras, fathers waiting patiently as their wives took pictures of their child, and kids, many with looks of terror as nerves were gradually taking over their tiny bodies. 
Of course, I was no exception.  I forced my nervous/excited child to stand in front of the sign to the school so I could take her picture.  I do this every year so that I can prove to myself (and to my daughter when she is an adult) that she was once a little girl and that she really did grow. 
As parents I think we want our kids to grow and no t grow all at the same time.   Our daughter is growing so fast that at times I am excited to see the way she is changing…and yet at the same time, I am saddened to see her moving through her childhood years.
Secretly, somewhere, deep down, I think I am just fearing the day that she asks for the keys to the car.
So, celebrate your child's return to school.  Come on over to The Village Bean, in Bothell's Country Village.  Mention The Bothell Blog and I'll give you 10% off of your order today."
                                                                                ~Karin Resing, Mom and owner of The Village Bean