Downtown Bothell On-street Parking Changes… over 30k worth..
Parking on Bothell's Main Street can be tough… it seems the person who designed the parking in Downtown Bothell must have been on some sort of medication. Signs are hard to read.. kind of misleading at times and over thought out IMHO. Well, starting in 2013 you will start seeing some changes. Where is the money coming from?? The Public Works Traffic Safety Fund.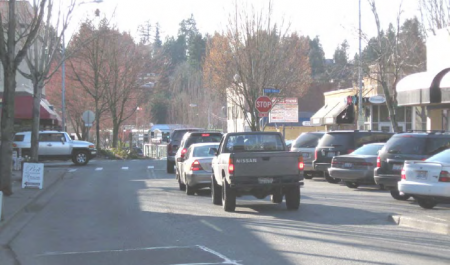 According at a 2009 study commissioned by the City of Bothell, the parking in downtown must be changed.
Per a city source:
"Soon, it will be easier than ever to park and enjoy the great shopping, eating and services of Bothell's historic Main Street. With a few changes in the parking signs and pavement markings, an additional 30 more parking spaces are expected to be added to the downtown on-street parking supply for serving shopping patrons.

This project has been based on a study the City conducted nearly two years ago,upon the recommendations of the Downtown Merchants Group, a subcommittee of the Chamber of Commerce. The study determined how parking in the Main Street area could be optimized by using some relatively inexpensive tools such as updating parking signs and adding parking space pavement demarcations.The study also emphasized the need for better use of curb spaces for short term parking.

The intent of this project is to make the shopping experience on Main Street more convenient for customers, which in turn will help businesses be more successful. Additionally, when construction happens on Main Street in 2013, these additional spots will relieve some of the impacts.

The City intends to implement the project before the end of the year. The project is expected to cost $30,000 from City Public Works Traffic Safety Funds and is expected to take less than a month to complete. For more information, please contact Transportation Manager Seyed Safavian, 425-486-2768 ext 4407 or [email protected]."
http://www.ci.bothell.wa.us/CityServices/PublicWorks/Transportation/downtownparking.ashx?p=1608