Beer Class: Cairn Brewing Will Co-Sponsor The Homebrewer Series
Kenmore, WA — Cairn Brewing, a community-minded brewery and taproom in Kenmore, will co-sponsor The Homebrewer Series with Abrosis School of Brewing and Micro Homebrew in late winter and spring 2019.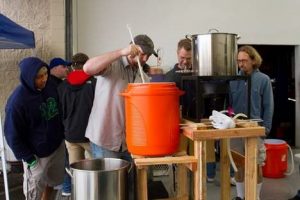 The Complete Homebrewer Series is taught by Jesse Young of the Abrosis School of Brewing. Jesse is an avid homebrewer and also the Assistant Brewer at the Flying Bike, a cooperative brewery in Seattle's Greenwood neighborhood. Each class features a brewing technique such as extract or all-grain as well as brewing specific beer styles such as India Pale Ales. Each class shows the beer making process from start to finish by brewing a 5 gallon batch of beer with question and answer opportunities throughout the live demonstration. The focus will be on the basics of brewing, along with some "tips" to help the first timer make an outstanding homebrewed beer from the start. In addition, Jesse talks about humanity's history and the intertwined anthropology of brewing to learn why beer became the cultural cornerstone of our past.
Jesse Young, Abrosis owner and instructor, said "Bringing more people into the homebrewing community is incredibly important to me. These classes build technical brewing knowledge that offer the reward of potentially years of homebrewing adventures. And it's awesome to share your beer with the world around you."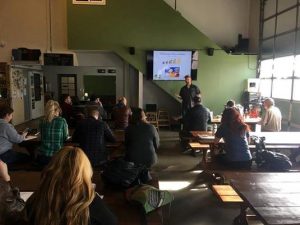 Jen Boyd, Cairn co-owner, said "We love working collaboratively with other small, local businesses. That makes our partnership with Abrosis School of Brewing and Micro Homebrew so natural for us. Jesse is a terrific teacher of technical brewing but also the cultural background. The homebrew advisors at Micro Homebrew coach beginning and advanced homebrewers alike on ingredients, technique and recipes. We often brew recipes from Micro Homebrew on Cairn's brewhouse so homebrewers can come taste what the finished product is like when they prepare to brew their own. That's a unique opportunity in the Seattle area."
The Homebrewer Series includes three classes on general brewing: brewing with malt extract, brewing-in-a-bag, and brewing with a three-tier, all grain system. The specialty classes include India Pale Ales and Porters/Stouts. Full class details withy registration information and dates are available via Eventbrite and also from Cairn Brewing's Facebook events page. All classes are held in the Cairn Brewing taproom in Kenmore. Micro Homebrew also offers class attendees an exclusive discount on brewing supplies and ingredients for the seven days following each class.
Currently-scheduled classes:
Malt Extract Brewing: February 10th
Porters/Stouts, March 3rd
Brew-In-A-Bag, March 31st
The Three-Tier System, April 28th
India Pale Ales, May 19th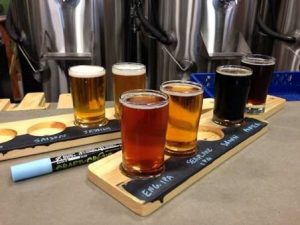 Cairn Brewing is an award-winning brewery and taproom located along the Burke-Gilman Trail in Kenmore. Featuring hop-forward beers and lagers brewed on-site, there are currently 20 distinct options on-tap ranging from German Pilsner to Stout (and often an off-list beer or two). The casual setting is family and dog friendly, offers both indoor and beer garden seating, and features light snacks and daily food trucks. Patrons are invited to view the brewing area, relax on couches or at communal tables, play games and enjoy time with family and friends while sampling freshly brewed craft beers. More information about Cairn Brewing at www.cairnbrewing.com and https://www.facebook.com/cairnbeer/.
For more information, contact Jen Boyd at Cairn Brewing via [email protected] or call 425-959-5295.