Relaxing Station the New Massage Place on Main Street
My back was sore when I woke up this morning. Might have had something to do with moving furniture all day yesterday. I remember there was a new massage place down on Main St in Bothell. So I jumped in the whip and headed down to the center of town. Overall, it was a killer experience, but if you want to read more, here is what happened: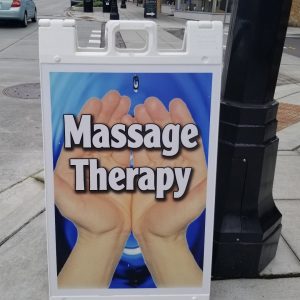 Drove down to Main St. and found parking right on the side of 101st St across from The Hop and the Hound. Walked in and some dude greated me and pointed to a sheet, he wanted my name and what kind of massage I wanted. I pointed to my upper back and he pointed to the Full Body selection. I didn't really want a full body, but what the heck, he was the expert I thought. There was one other person in place getting a massage and lots of empty tables. It looked like they have 6 folks there waiting to give massages.
Went into the open booth, took off my shoes and coat, and laid face down on the table. Clothes stay on and they put a warm blanket over you. Once I got situated, they started the rub.
IT WAS GREAT! Loved it! Felt relaxed. I only opted for the 30 minutes, I should have gone for the 60 minute package (prices below), but I needed to get back to the house to help decorate cookies.
Awesome experience, and for the price, its hard to beat. This might be my once a week massage place… whether I need it or not.
[ngg src="galleries" ids="6″ display="basic_thumbnail"]