It was date night and it was the first time I ever had received a pedicure. We hit Tina's Nails in Canyon Park, where my wife frequents. Not to shabby, I can get use to pedicures.( I will be writing a separate blog post about our experience at Tina's)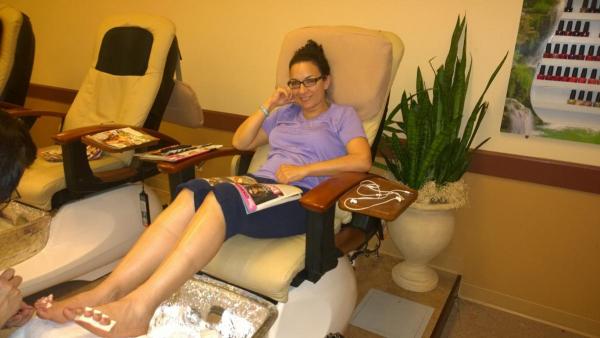 After our foot pampering, we headed over to another one of our favorite spots in Bothell, Vivendo Restaurant and Bar in Country Village.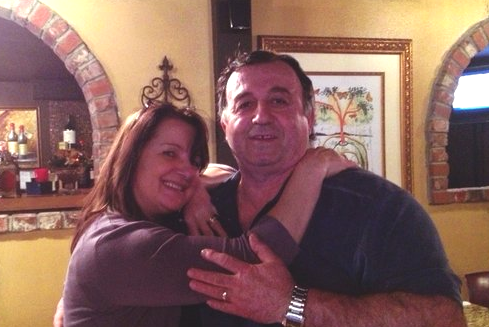 We arrived just about 7pm and decided to sit outside since it was a nice day. Right away one of the owners came out and sat down to talk to us. We have been to Viviendo a number of times, in fact, the Bothell Blog office is located in Country Village and I can see Vivendo's from my window. My wife ordered some white wine and I had my gin and tonic. Right away some freshly baked bread came to the table with some great dipping sauce. Personally, I like the olive oil sauce at Grazie's a bit better, but this stuff is still the bomb. Viviendo's does not ship in bread from a bakery, they actually bake it right there in the restaurant. It was hot and fresh.. like a perfect little high carb dream.(Above: Vivendo's Owners Sofie and Prokop Tona)
Shortly after the bread arrived owner, Prokop came outside and sat with us and basically hung out the entire dinner, talking about some of the famous people who frequent our, up until now apparently, was our secret little restaurant. Did you know that there are a few former Seahawks that frequent Vivendo's? There are also some folks that drive down from Bellingham every month just to get a taste of one of their seafood dishes. It doesn't really surprise us though, the quality of Vivendo's food is hard to match.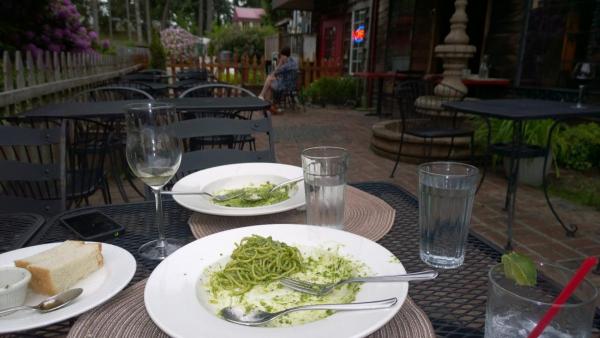 We asked Prokop why that was, why was no matter what we ate at Viviendos's it was completely off the chain? As the caprese appetizer came to our table (just for the record, I am not a tomato guy, but I will eat the hell out of fresh sliced mozzarella and olive oil), Prokop said the reason why their food was special is because of his wife Sofia. He mentioned that her love of cooking is infused within the food itself. The then told us of a story of a man who grew the most nutritious grapes in all the world. His secret? He played beautiful music in the vineyard. He said that the recipes used at Vivendo were created from his wife's heart and every dish has a truly unique twist and taste to it. He's right you know. Many people think of Vivendo's Restaurant as a strictly Italian restaurant. Not so. Their menu is a fusion of Mediterranean AND Italian, which is why their dishes are so unique. 
As the night progressed, we ordered dinner, both of us had the spaghetti pesto dish. This is one of our favorite dishes at Vivendo's. There is something about the pesto that is delicious and creamy at the same time. I wouldn't say that the portions are huge, but they are just right. The pesto sauce is just rich enough that you feel like you are getting much more than you actually are.
A couple more drinks and 30 minutes we were just about done. My wife is a fan of their chocolate cake, which is a great way to top off the meal. I would suggest just getting one piece and sharing it though as it is flavorful and rich as well. it comes with a drizzle of some sort of berry syrup and is the bomb. My wife ordered a class of red wine to go with the cake but Prokop stopped our waiter and said something to him. He said "I told him to get you a different type of wine to go with that chocolate cake. Trust me." We did and he nailed it. The wine was so good with the cake,… perfect match. Prokop mentioned that they have taken great time and effort focusing on their wine selection and matching wines to their food. Viviendo's has reciently really been introducing local wines out of Woodinville and have seen a large spike in local wine sales. 
So overall, a great date night with my wife… all within our town of Bothell. Have you had a cool date night experience in Bothell? Send me a mail and I will post it on the blog.