$35,000 STEM Investment Impacting Every K-7th Northshore Student
Bothell, Wa — The Northshore Schools Foundation is serious about providing district-wide financial support for STEM (science, technology, engineering and math) education.
During a special presentation at the February 28 meeting, Foundation co-presidents Karissa Webster and Kristin Austin, presented school board president Julia Lacey a $35,000 grant for STEM Education.
Northshore Schools Foundation executive director Carmin Dalziel shared that every student currently enrolled in grades kindergarten through seventh grade and hundreds of secondary students will feel the impact of this grant.
"Some students will come into contact with the products funded by the Foundation more than 12 times, depending on their path of study," said Dalziel. "This is the kind of district-wide support we [the Northshore Schools Foundation] are proud to be a part of."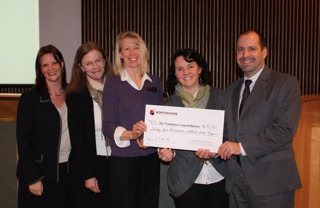 Funds granted were raised as the result of this October's Annual Calling for Kids campaign and a generous grant from the Norcliffe Foundation.  Programs funded were chosen through a biannual granting process where the district applies for support from the Foundation to enhance learning opportunities for students.
Funds are designated to: support the updating and optimization of district-wide elementary Foss science kits; supplement the purchase of new science textbooks, lab equipment, learning toys and fieldtrips for junior high students; the upgrade of the district learning center math curriculum; the purchase of a PCR machine for Biomedical programs at Woodinville High School; and the purchase of two upgraded hospital beds for the Career and College Readiness Health Sciences program.
In Fall of 2011, the Foundation introduced STEM education as one of five funding priorities. Since then, the Foundation has contributed more than $48,000 towards the STEM initiative and nearly $100,000 to the district overall.
"It's exciting to see what can happen when thousands of community members come together and make an investment in our students.  Some people give $25, some give $10,000: it comes together as a collaborative investment that really makes an impact," said Dalziel.
Long-standing support from local businesses such as Cornerstone General Contractors, Elevation Cellars, Molbak's, Foundation House of Bothell, Northwest Totem Cellars, The Hollywood School House and corporate sponsors like Microsoft, McKinstry, The Boeing Company, Fred Meyer, Bio-Life Solutions and BECU are also a valued part of the funding equation.
"Even in rough economic times, these companies made it a priority to continue supporting students, because they know the impact of having students who are well educated and supported," said Dalziel. "It speaks volumes to their business practice and commitment to ensuring that all students have the opportunity to graduate career and college ready."
The Northshore Schools Foundation is currently accepting grant applications to provide financial support for classroom projects that innovatively support the initiatives of the Foundation and scholarship applications for teachers interested in enrolling in the UW Support Program for teachers pursuing their National Board Teacher Certification.
As a means of support for its funding initiatives, the Northshore Schools Foundation will host its ninth annual Light a Fire for Learning Luncheon on Thursday, April 26, from 11:30 a.m. to 1:15 p.m. at the Lynnwood Convention Center.  For more information about the Northshore Schools Foundation please visit www.NorthshoreSchoolsFoundation.org. or facebook.com/northshoreschoolsfoundation or call (425) 408-7680.