Shots Fired in Bothell near Burgermaster
UPDATED 7.11.11
There are reports of gun fire near the 2000 of 187 Place SE, near the Burgermaster on Bothell Everett Hwy. A spokes woman for the Snohomish County Sheriff's Office said "We've had an officer-involved shooting in unincorporated Bothell,". According to the Seattle Times, "reports of the shooting first came across emergency scanners around 12:20 p.m. and listed the location as 20th Ave Southeast and 187th Place Southeast.
An Arlington man, Bill Gillam, said he had his scanner on and heard shouting and then an officer yell, "Get on the ground now."
After a short silence, that officer then relayed on the scanner that he needed a supervisor to the location. "Shots fired, one down," the officer said."
Apparently, there were many calls to this residence for domestic violence. The sheriff who was involved in the shooting has been with the department for over 20 years. The man that was shot was rushed to Harborview with an unknown status.
We have just learned that the man taken to Harborview has died.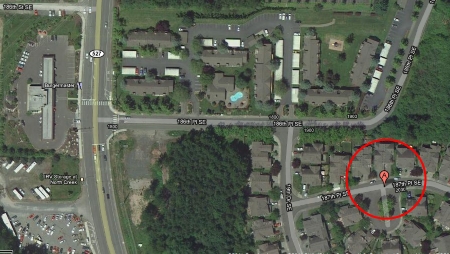 More details:
http://seattletimes.nwsource.com/html/localnews/2015570309_shooting11m.html
http://www.komonews.com/news/local/125296728.html