Canyon Park Safeway Construction Begins!!!
Finally! Here is the press release sent to us by Safeway this morning. All looks fine and dandy, but look at the bolded area:
Property Development Centers Plans A New Retail Center at Canyon Park
Construction Start February 2011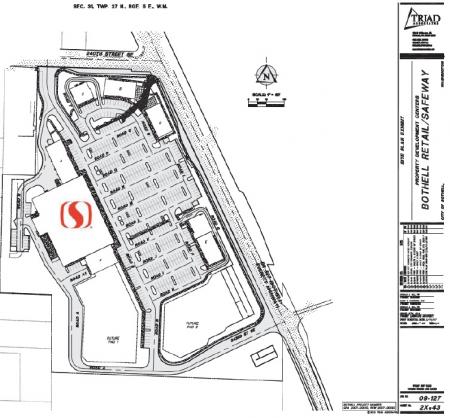 PLEASANTON, Calif.— February 25, 2011— Property Development Centers (PDC), a wholly owned subsidiary of Safeway Inc., announced today that it will begin construction on approximately 13 acres in the Canyon Park area of Bothell, Washington to develop a 150,000 square foot shopping center that will be anchored by a new Safeway supermarket. Construction will begin the end of February with an estimated completion of September 2011.
The new center, Lakeside at Canyon Park, will be located at the southwest corner of 240thStreetand Everett on Bothell Highway. Lakeside at Canyon Park is an upscale community of over 4,000 existing single-family homes and apartment units.
"We are excited to begin this project and bring to the people of Bothell and the Canyon Park area the superior shopping experience, convenience and retail variety that they need and deserve" said David Zylstra, Chief Operating Officer of PDC." Please visit our project website at www.Safeway.com/Bothell.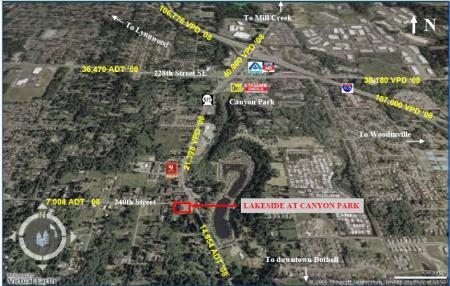 The Safeway at Canyon Park will be over 50,000 square feet and will feature full-service seafood, meat and deli departments, as well as a full-service bakery, and a Starbucks. The store will also have expanded organic and conventional produce departments, expanded beer and wine selection and a full-service pharmacy.
"This is going to be a special store with a broad range of products and services tailored to tastes and needs of the CanyonParkcommunity," said Safeway President, Greg Sparks. "We have been serving the Bothell market continuously for nearly 60 years, and we look forward to extending that record through this important project."
In addition to the Safeway, the project will include six shop buildings with approximately 40,000 square feet of retail space immediately available for lease. Scott Blankenship, John Booth and John Zunick with Wallace Properties of Bellevue, WA (www.wallaceproperties.com) are the listing brokers.
ABOUT PROPERTY DEVELOPMENT CENTERS
Property Development Centers is a national shopping center development company developing centers for and with Safeway as one of the major anchor tenants. PDC is a wholly owned subsidiary of Safeway Inc., a Fortune 100 company and one of the largest food and drug retailers in North America, based on sales. Safeway Inc. operates 1,725 stores in the United States and western Canada and had annual sales of $40.8 billion in 2009. The company's common stock is traded on the New York Stock Exchange under the symbol SWY.
PDC Contact Person: Brian Dowling, 925-467-3787
Safeway Contact Person: Cherie Myers: 206-201-6465