Family Event: Sustaina Mania! June 7th!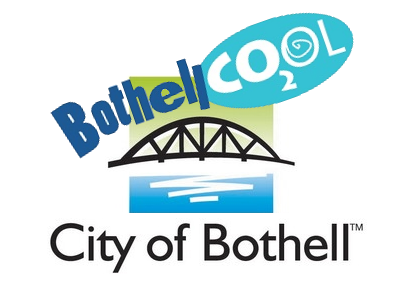 One of the best things about Bothell is how lush and green it gets in the spring and summer. Part of the reason we have such a beautiful city to live is the Bothell Cool program. BothellCool is the City of Bothell's sustainability program.  It focuses on helping the community reduce their environmental impacts and carbon emissions while improving their community and standard of living. They do a ton of great work locally, now you can join in the fun!
Looking for a great way to help the local Bothell environment? Want a fun way to teach your kids ways encourage a sustainable lifestyle? Why not check out Bothell Cool's Sustaina Mania event happening June 7th, 9-30am to 2pm at the Public Works Operations Center at 21233 20th Ave SE, Bothell Wa, 98021. There will be a ton of activities, free prizes and over 25 booths with local vendors. That's not all. They also will be having a Recycling Collection where you can bring your old batteries, electronics, Styrofoam, plastic bags and CFL recycling (fluorescent bulbs and tubes)
Here is there official webpage of the event: http://www.ci.bothell.wa.us/CityServices/BothellCool/Sustainamania/Susta…
For more information contact: Bothell Cool at (425) 486-2768 or visit http://www.bothellcool.org
Like Bothell Cool on Facebook: https://www.facebook.com/pages/BothellCool/175470802493603
Follow Bothell Cool on Twitter: https://twitter.com/bothellcool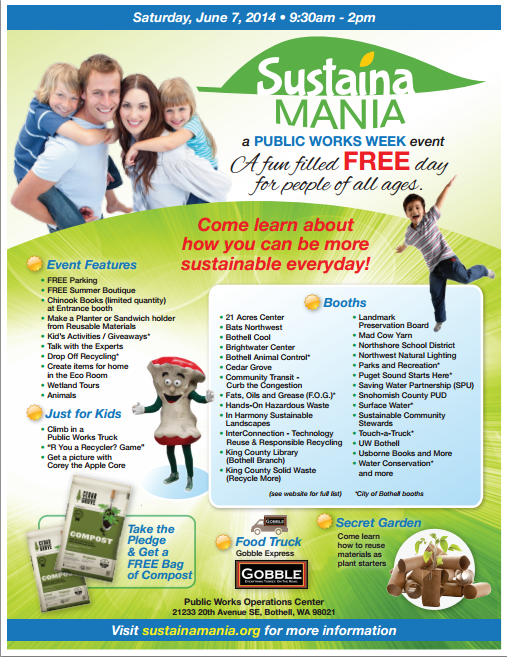 Here is a list of the days events:
9:30am – Event Opens
Door Prizes (coupons from BothellCool newsletter provide a limited supply of giveaways)
Bonus door prize for Chinook books
Touch a turck opens
Recycling Drop off available in parking lot next to event site.  You can drop off CFL bulbs/tubes, household batteries, styrofoam (clean and dry), plastic grocery bags and small electronics.
9:30am – Noon
Eco Room opens (build a terrarium, create planters out of reused or recycled materials, check out reusable lunch tools and see reuse challenge creations)
10am
Wetland tours start
FREE BNB Summer Boutique Opens
11:30am – 12:30pm
Music at the Bay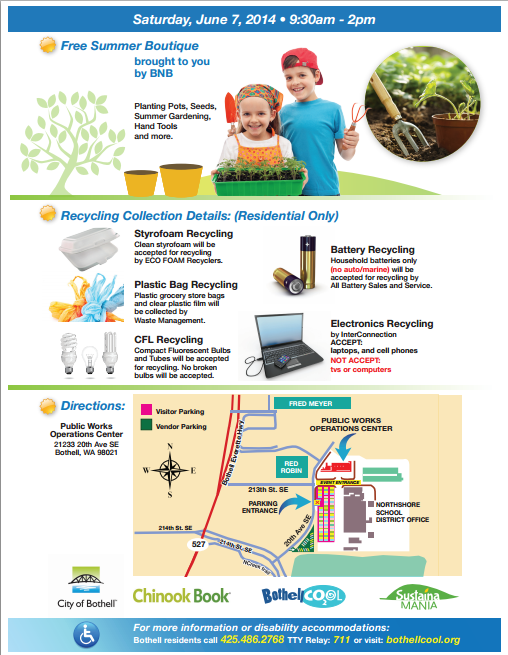 1pm
Prizes for Reuse Challenge issued
1:30pm
Recycle Relay Game
Special Features
FREE EVENT
FREE parking
Door Prizes
Kid's can play the "R you a Recycler Game" to win prizes
Recycling drop off/collection (see list of accepted items)
Wetland tours
Touch a Truck allows kids of all sizes and ages (even grown ups) to see Public Works equipment up close.  You can even talk to staff about programs and services offered by Public Works
Planting for visitors of all ages (get a start to gardening by planting on site and seeing samples of things you can create)