New Strip Club in Bothell?? Oh Wait, it's a Coffee Stand
New Strip Club in Bothell… Oh Wait, it's a Coffee Stand
The early morning commute on 527 between 405 and downtown Bothell can be a drag. The light by the new Safeway clogs up traffic all the way down the hill past Teriyaki Plus. It's raining, it's dark… what a terrible commute. Wait! What's this? I see a blinking OPEN sign right past Country Village… as I drive by the small building that use to be occupied by a very family friendly coffee shop called R&R Espresso, I look in the very large front window and see an attractive girl wearing nothing but some daisy duke shorts and a bra.. or a top with as much fabric as a bra… Could it be? Could Bothell have a new "Slut Hut"? Yes it is true. And the only thing that separates the place from a strip club is that they have not installed the stripper pole yet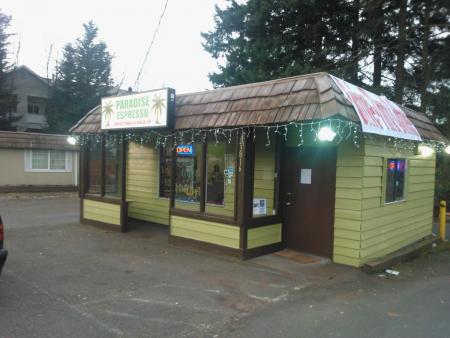 There is no denying the fact that the location is perfect for a drive thru espresso stand. It is right on a main traffic vein and is easy to get in and out of. When I heard that R&R Espresso was leaving the location I looked at taking it over for them. The coffee was great, the location was great but what they did not have was consistency. I think that lack of being open every morning, rain or shine proved to be their downfall.
The new business Paradise Espresso seems to ALWAYS be open. Rain or shine, short shorts or tube tops.. So I am sure they will build a strong clientele very easily. So the question everyone is probably asking, How is the coffee?!?!? To get this ever important piece of information, we had one of our staff go through the painful ordeal of getting coffee at a "costume themed coffee stand" and here is what he said:
"When I drove up to the window there was a very skinny girl wearing some tight yoga pants and a low cut shirt. She greeted me and asked if I was having a good day. I told her yes and that I was very busy. She then took my order (a double short Americano). She turned and started to make the drink. I could be wrong, but I think the new owners might have raised the floor because the girl booty seemed to be right in the line of site. Of course I was not paying attention to her as to see if she was going to try to get my attention. Sure enough when she noticed I was more interested in answering emails on my phone than looking at her, she promptly bent down and pretended to pick something off the floor. I assume there was nothing on the floor as I did not hear anything drop. I could see from my peripheral vision that she was looking over at me. She stated to talk about how busy the holidays were and some other small talk, when I refused to make eye contact with her, she asked me if I wanted a couple of ice cubes in my Americano. I said sure without looking, then she took her scoop or whatever it was and scooped some ice and said "This much?" which finally forced me to look at her and say yes. She put some ice in my coffee took my 2 bucks and I was on my way. I felt like I had just had 3 rounds of appetizers and Hooters. Ugh. The coffee? Was semi warm at best and tasted like Folders Crystals coffee. This place exists for one reason only. To give dirty old men a cheap thrill…."
Folders Crystals? Nice.