Chester Dennis Jones to Headline Bothell Music Festival September 3rd at Country Village
Tonight organizers secured one of Seattle's best blues talents to headline in their Bothell Music Festival 2011. Chester Dennis Jones has wowed fans for years in the Pacific Northwest and will now be one of the lead acts at the Music Festival. Chester Dennis Jones recently performed at the Tacoma Freedom Fair.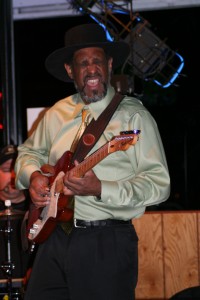 "Then something amazing hit like a ton of bricks. I thought that Slim Harpo and Luther Allison came back to life to blow the doors off the building. I saw The Chester Dennis Jones Band at the Mt. Baker Blues Festival last summer and thought that they were a national act flown in from Chicago. I was wrong: they are a Tacoma area band.
The first thing they did this night was the instrumental song, "San Jose." I know great guitar playing when I hear it and I heard it. They later did "Bad Luck" and the singing was good too. Chester also sang "Born in Chicago" and it sounded as good as I've heard it done by anyone. The slide guitar work of this guy is something everyone should go check out. It is powerful, flawless, and shows why we love this kind of music. In addition to Chester on guitar and vocals, Steve Hopkins played the drums, and Don Harvey was on bass. The rhythm section is solid."
— Robert Horn for the Washington Blues Society
Wait until you hear him: check out Chester Dennis Jones Band on this video:
Follow Chester Dennis Jones on his Facebook Page: http://www.facebook.com/pages/Chester-Dennis-Jones-Band/183423835051194